"アゲ♂アゲ♂EVERY☆騎士 (Age Age Every Knight)"by DJ OZMA is featured on Just Dance Wii 2.
Appearance of the Dancer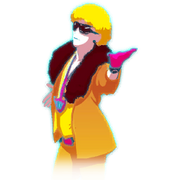 The dancer is a man with curly orange hair. He wears a pair of hot pink glasses, an orange jacket which covers a yellow shirt, a purple necklace, a pair of yellow pants, as well as a pair of burgundy penny loafers.
Background
The background is a dance floor with a canteen or bar behind it. There is a girl with hot pink hair behind the dancer, at the canteen, as well as other people on the dance floor following his moves. At the end, LOVE appears in the air with a heart.
Gold Moves
There are 6
Gold Moves
in this routine:
Gold Move 1:
Point to the screen with your right hand.
Gold Move 2:
Point to the floor with both hands.
Gold Moves 3 and 6:
Point to the right, but lower.
Gold Move 4:
Swipe your hands to the side.
Gold Move 5:
Point up with both hands.
Trivia
The dancer looks like a recolor of the left dancer from Pop Star.
This is the first time the lyrics appear in the background. It is followed by Love Me Again.
In the background there is a girl that looks like Call Me Maybe and We Can Fly, and the barman wears the same clothes as P2 from Hot Stuff.
His hair is yellow instead of orange which is in the menu icon.
If his involvement with Kishidan is included, this is the second song by DJ OZMA in the series. It is preceded by One Night Carnival in Just Dance Wii.
Although this song is not a direct cover, it is the same as DJ Doc's Run to you, but with rewritten lyrics.
Gallery
Videos
References