Ain't No Other Man
Game(s)
Just Dance 4 (Wii U)
Artist
Christina Aguilera
(The Girly Team)
From the
Year
2006
2012 (Cover)
Released Date(s)
Difficulty

2

(Classic/Mashup)
Effort
No. of Gold Moves
4
No. of Shake Moves
Dancer Gender(s)

♀

Mashup
Available on Wii U
Alternate Routines
Puppet Master Mode
Dance Mode
Solo
Menu Color
Pigment Indigo
Pictogram Color
Bunting
Glove Color

Cerise Red-Mandy

Lyrics Color
Chestnut Rose
Steel Blue (Mashup)
Bright Turquoise (Puppet Master)
Pictogram Count
132 (Classic)
104 (Mashup)
Total Calories
Burnable (

kCal

)
Duration
Code Name
AintNoOtherMan
Preview Audio
Choreographed By
Performed By
Aurélie Sériné
[Source]
"Ain't No Other Man" by Christina Aguilera (covered by The Girly Team in-game), is featured as a Wii U exclusive on Just Dance 4.
Appearance of the Dancer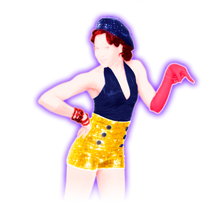 The dancer is a woman with short auburn hair who wears a blue sparkly hat, a navy blue halter, a low cup top gold sequin high waist button shorts, and a pair of pink stilettos.
Background
A stage with shiny lights, stereos and a microphone, the colours mostly being gold, orange, and black. The stage also turns white and purple at some points.
Gold Moves
The are 4 Gold Moves in the routine, all of which are the same:
All: Point to the screen with your right hand.
One player gets 3 stars.
One player gets 5 stars.
One player gets 5 stars on the Mashup.
Get all Gold Moves.
Get the "Great Finisher" dance style.
Get GOOD when "Ain't no other man" is sung.
Mashup
Ain't No Other Man has an unlockable Mashup that is also exclusive to the Wii U.
Dancers
Ain't No Other Man
Can't Get You Out of My Head (Beta)
Maneater
Can't Get You Out Of My Head (Beta)
A Little Less Conversation
California Gurls
Heart Of Glass
Sympathy For The Devil
Never Gonna Give You Up
Disturbia
Disturbia
Sympathy For The Devil
Never Gonna Give You Up
Disturbia
Sympathy For The Devil
Never Gonna Give You Up
Disturbia
Ain't No Other Man
Puppet Master Mode
Ain't No Other Man has a Puppet Master Mode. Here are the captions in order of appearance:
Ain't No Other Man
Ain't No Other Man
Ain't No Other Man is featured in the following Mashup:
Ain't No Other Man is featured in Puppet Master Modes in Just Dance 4. Here are the captions attributed to her dance moves:
Back It Up
Birdie
Flamingo Walk
Starlette
Swan Walk
Trivia
Even though Christina's song is covered, in any other songs that feature her in the series (such as Moves Like Jagger and Feel This Moment) her parts are not covered.
The dancer appears on the NTSC front cover on the beta version.
The line "You're badass" is omitted. Unlike most censored terms, it's not replaced with three full stops.
This is the second song by Christina Aguilera in the Just Dance series, after Moves Like Jagger and before Feel This Moment.

It does not officially count as her second song because it was covered.

Part of the routine is shown in So What in the broken television.
Can't Get You Out of My Head's beta dancer makes an appearance in the Mashup. However, in the Puppet Master Mode, the original dancer was used with the same move.
This is the first exclusive song to have a Mashup and/or an alternate mode. It is followed by Till I Find You (which only has an exclusive Mashup) and Papaoutai (with an African Dance exclusive mode and an exclusive Mashup).
In the Puppet Master, the pictograms from Crazy Little Thing are pink instead of red.

Also, the coach from Skin-To-Skin has his glove on the left hand instead of on the right one.

The song was supposed to be in Just Dance 4 for all consoles, as its files were found in the game files for other console verisons.

This can be proven also by its appearance in the background of So What, which appears on all consoles.
The song's Mashup files were also found on the PS3 version of the game. However, it still remains only playable on the Wii U.
On some covers of Just Dance 4 (all consoles), you can see this coach instead of the dancer from Umbrella, in the same pose.

In some pictures, the coach's hat is golden instead of dark blue.
In the line Ain't no other lover!, lover doesn't get highlighted although it's sung.
This is the only Just Dance 4 Wii U exclusive that has not yet appeared in Just Dance Now or Just Dance Unlimited.
Gallery
Videos
References

This section is a stub. You can help by adding to it.

v - e - d

Puppet/Party Master Modes
Ad blocker interference detected!
Wikia is a free-to-use site that makes money from advertising. We have a modified experience for viewers using ad blockers

Wikia is not accessible if you've made further modifications. Remove the custom ad blocker rule(s) and the page will load as expected.