"All I Want for Christmas Is You" by Mariah Carey was found in the ISO files of Just Dance 2014, Just Dance 2015, Just Dance Now, and Just Dance 2016.
Appearance of the Dancer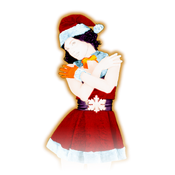 The dancer is a girl with a black hair in a bob. She has a Santa hat over her black hair and a white shimmy collar with yellow bells. She has a silver and red strapless Santa dress and a yellow snowflake on her black belt. She also has leggings that is the same style as her dress and black shoes.
Background
According to the square in the files, the routine takes place within a golden room with shiny bells and colored dots.
Gold Moves
There are currently 2 known Gold Moves for this routine:
Gold Move 1: Make two inverted circle with both arms.
Gold Move 2: Put your hands down (previously hands up) slowly while facing slightly to the northwest.
All I Want for Christmas Is You appears in the following Mashup:
All I Want for Christmas Is You appears in Party Master Modes. Here are the captions attributed to her dance moves:
Christmas Rythme
Christmas Shot
Magic Arms
Merry Christmas
North Pole Cancan
Present For You
Snow Time
Trivia
The coach appears in Dark Horse's Mashup and in the Party Master Modes for Summer, Holding Out for a Hero and All About That Bass.

This makes her the second dancer to appear in a Mashup or any Party Master Modes before her confirmed corresponding song has been officially released. She would be followed by Respect.
She is the second unknown dancer to have a Gold Move, as seen in Holding Out for a Hero and Summers' Party Master Modes.

This would have been the third Christmas themed song in the series if it had been released, after Crazy Christmas and Xmas Tree.

It would have also been the first Christmas song that is not made by Ubisoft.

The menu icon for this routine was shown on a teaser for Just Dance Unlimited.[1]
A Just Dance 2014 avatar of the coach was found in the early versions of Just Dance Now.[2][3]
The avatar found in-game does not exactly match the appearance of the coach.

The avatar has less curled hair, a longer portion of hair on the right side, a slate blue trim and bobble on the Santa hat, and a collar in the same color, all of these being differences from the actual coach. 
Gallery
Game Files
Videos
Official Music Video
Extractions
References