Blurred Lines
Comments

0
415pages on
this wiki
Blurred Lines

Game

Artist

Robin Thicke ft. Pharrell

Year

2013

Difficulty

Easy

Number Of Gold Moves

3

Dancer Genders

Males (♂/♂)

Mode

Duet

Glove Color

Yellow (both of them)

Pictogram Color

Gray/Dark Blue

Lyric Color

Yellow (Regular and mashup)
Pink (Extreme)
[Source]
Blurred Lines is a song in Just Dance 2014. It's by Robin Thicke ft. Pharell Williams. It has a classic version with a duet of 2 males, a mashup, and an extreme version of a solo female which is a DLC worth $2.00.
Dancers
Regular
P1 - Blue fedora, grey hoodie, black jeans, blue shoes, and yellow glove. He looks like Pharrell.
P2 - Short brown hair, sunglasses, blue denim jacket, yellow shirt (briefly seen), blue jeans, black and yellow sneakers, and yellow glove. He looks like Robin Thicke.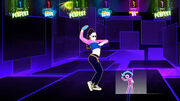 Extreme
Long black hair in a ponytail, black sunglasses, gold earrings, long sleeve crop top, navy blue sweat pants, gold belt, grey shoes, and blue glove. It resembles a dancer from the music video.
Background
Different shape colours, ranging from green to apricot, and yellow to red. Grey versions of female dancers from the same game are seen. The extreme version's background is in the style of all the other extreme versions. The colours flashing are mostly blue, along with purple and yellow.
Gold Moves
The first is when both dancers shake both their arms, moving around. Done during "You're the hottest ... in this place." The second and the third are whren both dancers rub their left legs with their left arms (right legs and arms for the players). Done during "Get up-a" and "What you don't like work." On the extreme version the first, second, and fourth ones are when she throws her hands out quickly. Done during "I hate these blurred lines." The third one is where she makes a square with her arms, her left hand being near her face (right hand for the players). Done during "What you don't like work."
Background Dancers
Trivia
Mash Up
The song has a Dance Mash Up that is worth 5 Mojo coins like many of the other mashups. The mashup doesn't have Gold Moves.
Dancers
Gallery
Videos