"Bonbon" by Era Istrefi is featured on Just Dance 2017, 舞力全开2017, Just Dance Unlimited, and Just Dance Now.
Appearance of the Dancer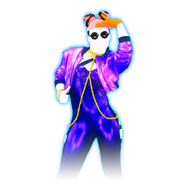 The dancer is a woman with pink and black hair in two twisted curls. She is wearing black tea-shade sunglasses, a purple patent jumpsuit, a purple jacket, a gold necklace and a gold chain that follows down to her waist and around her hips, and purple stiletto heels.
Her outfit turns in a blue and silver gradient in a specific part of the routine.
Background
The background is the inside of a kaleidoscope, which is very majestic. It shines various neon colors with various backgrounds covering a diamond. The background changes its shape and color through different segments of the songs and in the main chorus the background turns kaleidoscopic. Afterwards, the diamond turns into a circle and then transforms back into a diamond.
Gold Moves
There are 3 Gold Moves in this routine:
Gold Moves 1 and 3: Throw your arms in the air while shaking your hips back and forth.
Gold Move 2: Move your right arm from the right to the left.
Trivia
Bonbon is the first Albanian-language song in the series.
Era Istrefi is the third singer of the Albanian descent to appear on the main series, after Rita Ora and Bebe Rexha's appearances on Black Widow and Hey Mama, respectively.
On Instagram, @justdancegame_us posted a GIF of a part of the routine which was different than the one previewed at that time.[4]
"Blunt" and "n***a" (from "Se na high jenna n***a") are censored.
The lyric "Un jom Era" is corrected to "Unë jom Era".
"E skenoj kejt qa kom nër blluuuz" ("He ... scanned everything I had under my top") is referenced as part of ESRB's "Mild Lyrics" rating of Just Dance 2017.
On seventh generation consoles, when the dancer "pops out of the square", the glass effect which is used in Just Dance 2014 squares can be seen in the background square.
The routine was initially supposed to have a completely different coach and a different background. This idea was finally scrapped and replaced with the actual look.[5]

The dance moves look differently performed as well.

In the menu square, the coach's outfit is less bright, and the coach is seen with an orange outline instead of the purple outline that is used in the actual routine.
Bonbon is one of the songs selected for the digital qualifications of Just Dance 2016 World Cup.[6]
The Just Dance Now preview uses the Just Dance 2018 graphical assets.

Also, the routine has a few extra seconds at the end, where the coach is seen standing still and holding her jacket.
Gallery
Game Files
In-Game Screenshots
Behind the Scenes
Beta Elements
Others
Videos
Official Music Video
Gameplay
Others
References