"Boomsday" by Sweat Invaders is featured on Just Dance 3 as a DLC
Appearance of the Dancer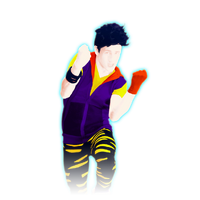 The dancer is a boy, wearing a yellow shirt with a purple sleeveless sweatshirt. The sweatshirt has black pockets as well. He is also wearing black pants with yellow lines, orange and white sneakers, and a dark blue sweatband. When the bridge starts his skin becomes black.
Background
The background is a plain light blue and black color with a shock design.
Gold Moves
There are 4 Gold Moves in the routine:
Gold Moves 1, 2, and 3: Punch quickly three times to the left.
Gold Move 4: Stretch your right arm out with your thumb up. This is the last move of the routine.
Boomsday appears in the following Mashups:
Boomsday appears in Puppet/Party Master Modes. Here are the captions attributed to his dance moves.
Aerobic Punch
Futuristic Stretching
Punch 'N' Release
Purple Punch
Trivia
In the version of the song used in-game, it sounds slightly different at the end from the original song.
The routine is the "brother" routine of Dun N' Dusted, as the dancer wears the same shaped outfit, the background has the same layout and coincidentally, share the same performer. The only differences are the absence of sunglasses and the color schemes for the outfit and the background.
At a certain point, the dancer turns almost completely black; however, when this part of the routine is used in Mashups, he appears with his normal colors.
Gallery
Videos
Official Audio
Gameplays
Extractions
References