Born To Be Wild
Game(s)
Just Dance 2 (DLC)
Just Dance: Summer Party
Artist
Steppenwolf
From the
Year
1967
Release Date(s)
October 28, 2010
Difficulty

1

Effort

2

No. of Gold Moves
2
No. of Shake Moves
Dancer Gender(s)

♂

Mashup
Alternate Routines
Dance Mode
Solo
Menu Color
Pictogram Color
Blue Gem
Glove Color

Radical Red

Lyrics Color
Pictogram Count
72
Total Calories
Burnable (

kCal

)
Duration
Code Name
Preview Audio
Choreographed By
Performed By
Jérémy Paquet
[Source]
"Born To Be Wild" by Steppenwolf is featured on Just Dance 2 (as a DLC) and Just Dance: Summer Party.
Appearance of the Dancer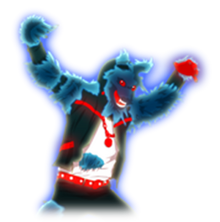 The dancer is a blue-furred werewolf wearing a black and red leather vest with a white regatta, ripped black pants, red necklace, and black boots with red stripes. His fur is a lighter blue in the remake.
Background
Just Dance 2
The background is a forest at night with a wolf howling to the moon, a lamp post and a motorcycle. When "Born to be wild" is sung, the background changes to a road and the coach rides a motorbike.
Remake
In the remake, the background fades in after the coach turns towards the screen. The floor is darker, the motorbike is placed at the left (while it is in the center in Just Dance 2), the electricity pole has a different shock effect, the moon is lighter, the light post creates a different light and the wolf in the background moves in a more natural way. When the coach rides the motorbike, the transition between the two backgrounds is different.
Gold Moves
There are 2 Gold Moves in the routine, both of which are the same:
Both Gold Moves: Raise both of your hands.
Born To Be Wild is featured in the following Mashups:
Born To Be Wild appears in Puppet/Party Master Modes. Here are the captions attributed to his dance moves:
Fear The Wolf
Full Moon
Werewolf
Wolf Minded
Trivia
Gallery
Videos
References
Ad blocker interference detected!
Wikia is a free-to-use site that makes money from advertising. We have a modified experience for viewers using ad blockers

Wikia is not accessible if you've made further modifications. Remove the custom ad blocker rule(s) and the page will load as expected.