Burn
Game(s)
Just Dance 2015
舞力全开2015
Artist
Ellie Goulding
From the
Year
2013
Release Date(s)
Difficulty
Effort
No. of Gold Moves
4
No. of Shake Moves
Dancer Gender(s)

♀

Mashup
Alternate Routines
Just Dance VIP
(WeeklyChris)
Dance Mode
Solo

Menu Color(s)

Pictogram Color

Fire

to

Bay of Many

Glove Color

Anakiwa

to

Sail

to Black
Lyrics Color
Sky Blue
Pictogram Count
117
Total Calories
Burnable (

kCal

)
Duration
Code Name
Preview Audio
Choreographed By
Performed By
Shirley Henault
[Source]
"Burn" by Ellie Goulding is featured on Just Dance 2015 and 舞力全开2015.
Appearance of the Dancer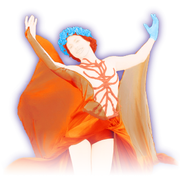 The coach is a woman with short orange hair. She wears a headband with light blue flowers, a white tank top (which is very hard to see) with a bright orange crest on it, orange shorts with a long flowing orange skirt attached, and a pair of orange heels. At parts of the song, the dancer inverts in color.
Background
The routine takes place in rocky valley during a starry night with mountains showing on the back and candles appearing on the floor. Some disco-balls can be also seen completing the floor pattern with the candles.
Gold Moves
There are 4 Gold Moves in this routine:
Gold Moves 1, 2 and 3: Swing both of your arms from left to right in a half circle motion. 
Gold Move 4: Take both of your arms from the previous position and quickly move them to the opposite sides. This is the final move of the routine. 
Burn has a Community Remix. The following are featured:
Sync Vodka [Canada]
ericjs1 [USA]
susie slaytanic [USA]
JHONYSUTRA [Brasil]
rackup24 [USA]
Frozen San [UK]
cramuliche [Brasil]
Viral Ghost [Canada]
RODRIGOBROC [Brasil]
dangomx jr [Mexico]
Deh XG [Brasil]
LIL LA DANSEUSE [Canada]
AdamDance485 [Poland]
O I OmaR [France]
melonetta [Hong Kong]
OriginalMNH [South Africa]
YatzaBurgos06 [Mexico]
gugacobow [Brasil]
Gabi3003 [Brasil]
GiannisInLove [Greece]
PrincessZie [Canada]
viniciusfmoraes [Brasil]
HandicapBubbles [USA]
Mnwalker81 [USA]
morales360bkn [Chile]
GabeKahn [Brasil]
WoodElf27 [USA]
parkus95 [France]
Davidrocklee [Brasil]
Burn is featured in the following Mashup(s):
Trivia
Hell is censored.
This is the second song by Ellie Goulding to be in the series. It follows I Need Your Love from Just Dance 2014 and is followed by Lights.

As such, this is the first Ellie Goulding song that is in the main tracklist and not a DLC. It is followed by Lights.
This is also the first song by Ellie Goulding where she is the main artist, and not a featured artist. It is also followed by Lights.

The dress flowing effect was probably made with a mild wind machine, and effects were added to make it look like it was attached to her hands during the bridge.
It is very hard to see, but the dancer is actually wearing a white tank top., hence why the dancers skin tone is more flesh colored. This is more visible in an HD photo or video.
Despite the popular suggestion that she switches colors during the bridge, the colors are actually inverted.
Some of the background elements are used in the music video of Anything Could Happen, which is coincidentally a song by Ellie Goulding.
Ubisoft used to tease songs that would be featured in the next Just Dance game before their confirmation by posting pictures that are shadows of dancers. When the link was clicked people would be directed to the official Just Dance game site. Every link had a marker - the link from teasing picture of this song had this one: ?utm_campaign=dm_9Jun2014_jd2015_e3trackteaseburn - the end of this marker made this song leaked.
The lights form a flower which resembles Rapunzel's flower from Tangled.
This was the first song to be announced for Just Dance 2015, being announced along with the game itself.
This is one of the songs selected for the Just Dance 2015 World Cup.[1]
During the bridge, the coach's glove disappears. This is the second time that this has happened, after brief moments during Rock n' Roll (Will Take You to the Mountain). It is followed by the beginning of Automaton.
Gallery
Game Files
Others
Videos
Official Music Video
Gameplays
Classic
Others
References
v - e - d

Puppet/Party Master Modes
Ad blocker interference detected!
Wikia is a free-to-use site that makes money from advertising. We have a modified experience for viewers using ad blockers

Wikia is not accessible if you've made further modifications. Remove the custom ad blocker rule(s) and the page will load as expected.