キューティーハニー
Game(s)
Just Dance Wii
Artist
(前川 陽子) Yoko Maekawa
(倖田來) Koda Kumi
From the
Year
1973 (Original)
2004 (Kumi Koda)
Released Date(s)
Difficulty
2 (Medium)
Effort
1 (Calm)
No. of Gold Moves
5
No. of Shake Moves
Dancer Gender(s)

♀

Mashup
Alternate Routines
Dance Mode
Solo
Menu Color
Pictogram Color

Fresh Eggplant

Glove Color

Tangerine

Lyrics Color
Strikemaster
Pictogram Count
102
Total Calories
Burnable (

kCal

)
Duration
3:11
Code Name
Preview Audio
Choreographed By
Performed By
[Source]
"キューティーハニー (Cutie Honey)" by 倖田來未 (Koda Kumi) is featured on Just Dance Wii.
Appearance of the Dancer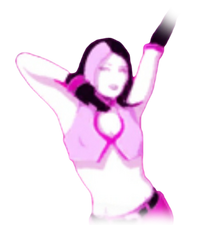 The dancer is a woman with bordeaux hair, a pink strand, pink bra, pink and bordeaux bracelets, yellow glove, magenta shorts with bordeaux belt, a bracelet on her left leg with a butterfly, and bordeaux heeled boots.
Background
There are two backgrounds for this song: the first is an empty room with checkered floor and a big heart on a sipario. Then it opens and it shows a bar with checkered walls, a piano, a guitar, and a bar counter with chairs and glasses on it.
Gold Moves
There are 5 Gold Moves in this routine:
Gold Moves 1 and 3: Put your right hand near your face.
Gold Moves 2, 4 and 5: Put your right arm up and your left one over your chest. 
Trivia
This is the first song by Kumi Koda in the series; it is followed by Won't Be Long with EXILE.
The dancer looks a bit similar to Kumi Koda.

She also has a strong resemblance to Pippi, a character from the anime SaruMaru and the game, Yandere Simulator.

The coach's avatar in Just Dance Wii U is the only avatar that also has cleavage and not just its face.

This is the first avatar that includes non-facial features/accessories; the second to do so is Ninja Re Bang Bang's avatar, which has a katana behind it.

The Gold Moves come from the original choreography.
In the original version, which was performed by Yoko Maekawa, the instrumental part between the second and the third verse is replaced by a rap-like part with a slower BPM.
This song is the theme song to the anime "Cutie Honey", centering around the titular android fighting crime. The theme used here is a remix made in conjunction with a live action movie.
Some people find the avatar disturbing because of the avatar's breasts.
Gallery
Videos
References
Ad blocker interference detected!
Wikia is a free-to-use site that makes money from advertising. We have a modified experience for viewers using ad blockers

Wikia is not accessible if you've made further modifications. Remove the custom ad blocker rule(s) and the page will load as expected.