"Dance My Generation" by ゴールデンボンバー (Golden Bomber) is featured on Just Dance Wii U.
Appearance of the Dancer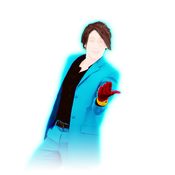 The dancer is a man with brown hair. He wears a black shirt, a cyan tuxedo with a black belt, and brown shoes. He resembles Jun Utahiroba.
Background
The dance takes place in a subway. There are various posters in Japanese, and numerous neon lights rapidly zoom outside the windows. There are three other men behind the dancer that resemble the rest of the member of Golden Blomer, all of whom follow his movements during the pre-chorus, chorus, and final part of the song.
Gold Moves
There are 5 Gold Moves in the routine:
Gold Moves 1, 2, and 4: Put your left arm on your forehead and point your right hand toward the screen.
Gold Move 3: Put your right hand up.
Gold Move 5: Similar to Gold Moves 1, 2, and 4, but at a different angle. Thus, this is the last move of the routine
Trivia
The backup dancer dressed in red is the same as P2 from Memeshikute, only with a different outfit. He resembles Kenji Darvish, a member from Golden Bomber.
The routine reuses some moves from the official video.
This is the first song by Golden Bomber in the series. It is followed by Memeshikute.
Gallery
Videos
References