Danceでバコーン!
Game(s)
Just Dance Wii U
Artist
°C-ute
From the
Year
2010
Released Date(s)
Difficulty
Medium
Effort
No. of Gold Moves
5
No. of Shake Moves
Dancer Gender(s)

♀

Mashup
Alternate Routines
Dance Mode
Solo
Menu Color
Pictogram Color
Bright Red
Glove Color
Magenta/Fuchsia
Lyrics Color
Electric Violet
Pictogram Count
200
Total Calories
Burnable (

kCal

)
Duration
Code Name
DanceDeBakoon
Preview Audio
Choreographed By
Céline Rotsen
Performed By
Shirley Henault
[Source]
"Danceでバコーン! (Dance de Bakōn!)" by °C-ute is featured on Just Dance Wii U.
Appearance of the Dancer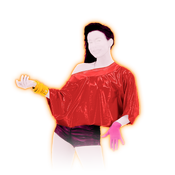 The dancer is a teenage girl with long black hair in a ponytail. She wears a loose off shoulder red shirt, bold bracelets on her right wrist, dark purple high waisted cheeky shorts, and black boots.
Background
The routine takes place in a sushi kitchen. In the background trays of food (sushi) go by on a conveyor belt. There is also a silhouette of a chef dancing behind a curtain. At the bridge, the dancer is dancing in a green background with rice on the ground and sushi dishes falling from the sky.
Gold Moves
There are 5 Gold Moves in this routine:
Gold Moves 1 and 3: Bend down and touch your feet.
Gold Moves 2, 4 and 5: Raise your right hand.
Trivia
There is a sushi avatar that represents this background.
Some moves are recycled from Cutie Honey.
The choreography and her outfit are inspired from the music video.
Sometimes, the chef in the kitchen will copy the coach's movements.
Gallery
Videos
References

This section is a stub. You can help by adding to it.

Ad blocker interference detected!
Wikia is a free-to-use site that makes money from advertising. We have a modified experience for viewers using ad blockers

Wikia is not accessible if you've made further modifications. Remove the custom ad blocker rule(s) and the page will load as expected.