"Diggy" by Spencer Ludwig is featured on Just Dance 2018.
Appearance of the Dancer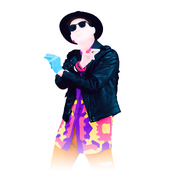 The dancer is a man with black sunglasses and a black fedora. He wears a pink, purple, and orange shirt with a black jacket over it. He has ripped orange pants and pink shoes. He has a double-lined white outline that is one solid line and one dotted line. He resembles Spencer Ludwig.
Background
The background consists of purple, magenta, and orange trumpets with the same outline as the dancer that change phase and a second background that has a dark black sky with buildings in it.
Gold Moves
There are 3 Gold Moves in this routine, all of which are the same:
All Gold Moves: Bring your hands up in front of your mouth at right angles to your body as if you are surprised.
Trivia
Diggy references Footloose in its lyrics.
Diggy is the second song by Spencer Ludwig in the series after his involvement with Capital Cities on Safe And Sound[2], but this track marks his first solo appearance.
The thumbnail for the American preview, uploaded on justdancegame, increased in quality a day after its release.
Gallery
Game Files
In-Game Screenshots
Others
Videos
Official Music Video
Gameplay
References