Disturbia
Game(s)
Just Dance 4
Artist
Rihanna
From the
Year
2008
Release Date(s)
Difficulty

3

(Classic/Mashup)
Effort
No. of Gold Moves
3
No. of Shake Moves
Dancer Gender(s)

♀

Mashup
Available on all consoles
Alternate Routines
Puppet Master Mode
Dance Mode
Solo
Menu Color(s)
Plum-Eggplant
Pictogram Color
Pompadour
Glove Color
Cyan
Lyrics Color
Turquoise (Classic)
Light Blue (Mashup)
Pictogram Count
153 (Classic)
117 (Mashup)
Total Calories
Burnable (

kCal

)
Duration
Code Name
Disturbia
Preview Audio
Choreographed By
Céline Rotsen
Performed By
Aurélie Sériné
[Source]
"Disturbia" by Rihanna is featured on Just Dance 4.
Appearance of the Dancer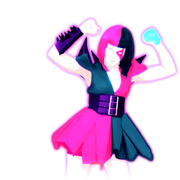 The dancer is a woman. She has a pink and dark blue dress. Her hair is the same color as her dress. She also has spikes on her sleeves. She wears black platform high heels and a purple spiked arm bracelet on her left wrist. Her outline is purple.
Background
The routine takes place inside a trippy blue room with glowing colors (possibly electric wires). At the chorus the room goes black with some sparkles. During the bridge, the background turns gray and distorts.
Gold Moves
There are 3 Gold Moves in the Classic routine:
Gold Moves 1 & 2: Put your hands on your legs and shake your body.
Gold Move 3: Lower your hands and bend down.
One player gets 3 stars
One player gets 5 stars
Get 5 stars on the Dance Mash-Up
Get all Gold Moves
Get the "In Rhythm" Dance style
Get GOOD when "Disturbia" is sung
Mashup
Disturbia has an unlockable Mashup which is available on every console.
Dancers
Disturbia
Good Feeling (Extreme)
Pump Up The Volume
Make The Party (Don't Stop)
Dance All Nite
Never Gonna Give You Up
We Speak No Americano
Let's Go To The Mall
Are You Gonna Go My Way
Good Feeling (Extreme)
She's Got Me Dancing
Cosmic Girl
Pump Up The Volume
Barbra Streisand (Extreme)
Disturbia
Let's Go To The Mall
Are You Gonna Go My Way
Good Feeling (Extreme)
She's Got Me Dancing
Cosmic Girl
Disturbia
Puppet Master Mode
Disturbia has a Puppet Master Mode. Here are the captions in order of appearance:
Disturbia appears in the following Mashups:
Disturbia appears in Puppet/Party Master Modes. Here are the captions attributed to her dance moves:
Beat It
Crawl
Dark Feelings
Disturbed Shake
Fever
Hands Up
Kitty Claws
Monster Claw
Open the Window
Side Claws
Windmill
Trivia
This is the fourth song by Rihanna in the Just Dance series, after S.O.S, Pon de Replay and Only Girl (In The World). It is followed by Umbrella, Where Have You Been and Diamonds.
The coach makes a cameo in the background of Just Dance.
There is an avatar for the dancer on every game. In Just Dance 4, you can get it via the Wheel of Prizes. In Just Dance 2014, it must be purchased with 5 Mojocoins. In Just Dance 2015, you need saved data from previous games.

However, on the Wii U version of Just Dance 4, there is no need to unlock the avatar, as all avatars including the one for this song is unlocked from the start (unlike other consoles where every avatar except this one is unlocked).

In a beta picture for Party Master Mode on Just Dance 2014, there is a caption called ''Open The Window''. This caption is not in the game.
The coach is on the cover of the PAL box art in the center.
There is a Rabbid version of Disturbia's avatar in Just Dance 2017 that has the designs and hair of the coach.

This avatar appears on Just Dance's wrapping paper as part of Ubisoft's 30-year anniversary advent calendar.[1]

S**t is censored. The censorship is part of the music video.
The dancer has a lightning on her face on the PAL box art, but it appears as a triangle in the actual game.
This was one of the first songs on Just Dance 4 to be revealed.
This song was originally going to have a completely different choreography, as seen in a Behind The Scenes interview.
During the routine, her armpits seem to be black.
On the Puppet Master mode, a Beta pictogram is used to replace Marcia Baila's Gold Move.
Gallery
| | |
| --- | --- |
| | The Manual of Style has recently been updated, and this section of the article requires major reformatting to comply with the MoS. Help this Wiki by editing it. |
Videos
Official Music Video
Gameplays
Extractions
References
v - e - d

Puppet/Party Master Modes
Ad blocker interference detected!
Wikia is a free-to-use site that makes money from advertising. We have a modified experience for viewers using ad blockers

Wikia is not accessible if you've made further modifications. Remove the custom ad blocker rule(s) and the page will load as expected.