"Dun N' Dusted" by Jason Creasey (covered by Sweat Invaders in-game) is featured on Just Dance 3 as a DLC.
Appearance of the Dancer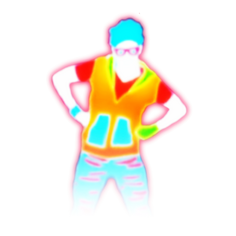 The dancer has light blue hair. He wears red glasses, orange sleeveless sweatshirt with cyan pockets, a green glove, red shirt, aqua sweatband, green and orange sneakers, and baby blue pants with red light up sparks on them. The dancer strongly resembles Boomsday.
Background
A dark red smoky background with some sparks and lights.
Gold Moves
There are 3 Gold Moves in the routine:

Gold Move 1 & 2:
While leaning to the left, put your left hand on your right leg, and give a thumbs-up with your right hand.
Gold Move 3:
Raise your hands and put them on your hips. This is the final move of the routine.
Dun N' Dusted appears in the following Mashups:
Dun N' Dusted appears in Puppet/Party Master Modes. Here are the captions attributed to his dance moves.
Arms Circle
Corner Jumpin'
Corner Jumping
Push the Corners
Side Pump
Trivia
The routine is the brother routine of Boomsday, as the dancer wears the same shaped outfit, the background has the same layout, and coincidentally, have the same performer. The difference is that there are different colors in the outfit and backgrounds, and Boomsday's dancer does not wear glasses.
The coach's hair is darker in the menu icon.
The song's title is a play on the English saying done and dusted.
Gold Move 3 is recycled from Skin-To-Skin.
Gallery
Videos
Official Music Video
Gameplays
Extractions
References