エレクトリックボーイ
Game(s)
Just Dance Wii U
Artist
KARA
From the
Year
2012
Release Date(s)
Difficulty
Medium
Effort
No. of Gold Moves
4
No. of Shake Moves
Dancer Gender(s)

♀

Mashup
Alternate Routines
Dance Mode
Solo
Menu Color
Pictogram Color
Dark Pink
Glove Color
Blue
Lyrics Color
Blue
Pictogram Count
149
Total Calories
Burnable (

kCal

)
Duration
Code Name
Preview Audio
Choreographed By
Performed By
Juliana Herrera
[Source]
"エレクトリックボーイ" ("Electric Boy") by KARA is featured on Just Dance Wii U.
Appearance of the Dancer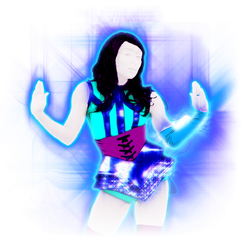 The dancer is a woman with long black hair. She wears a blue and dark blue one-piece swimsuit-like dress with a magenta corset, long purple stockings & eggplant-colored heels. In some parts of the routine she changes her clothes vice versa and her skin becomes black & she has a blue outline on her body.
Background
The background is a big room that lights up with purple and blue lines making effects according to the dancer movments. Also at the beginning there are blue squares at the walls and the floor has lighting sound bars of volume. The dancer stands in the middle of the room & it turns pitch black at the end.
Gold Moves
There are 4 Gold Moves in the routine:
Gold Moves 1 and 2: Lightly touch your heart with your right hand while you lift your right leg.
Gold Move 3: Hit the air with both hands while lifting up your right leg.
Gold Move 4: Point to the right with your right hand, put your left hand behind your back, cross your legs. This is the final move of the routine.
Trivia
This is the fifth song by KARA in the series, after Jumpin', Mister, Go Go Summer! and Jet Coaster Love.
The No! which is sung after the bridge does not appear in the lyrics.
The beta version had a different colored background (red instead of blue/purple).[1]
The dancer's wardrobe is based off of the outfits from the music video.
At some parts of the song, the dancer's skin color looks similar to Pon de Replay.
This is one of the few songs in Just Dance Wii U not to have an unlockable avatar.
At one moment in the song the lyrics can be a bit hard to see due to it blending a bit to the floor.
Gallery
Videos
References
Ad blocker interference detected!
Wikia is a free-to-use site that makes money from advertising. We have a modified experience for viewers using ad blockers

Wikia is not accessible if you've made further modifications. Remove the custom ad blocker rule(s) and the page will load as expected.