"Whip Jamboree" by Mac MC Culloch, Bonny Sartin, & Peter Shutler is featured on Just Dance 2018 as part of Kids Mode and on Just Dance Now. The song title is "Fearless Pirate" and the artists are credited as "Marine Band".
Appearance of the Dancer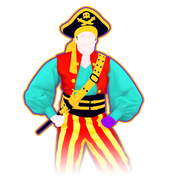 The dancer is a pirate with an atricorn hat and bandana. He wears a baggy long sleeve baby blue shirt. He wears a red vest with gold buttons. He hangs a sword in a scabbard. His pants are stripped with red and gold. He has a very thick golden striped black belt. His socks cover up a small part of his pants. His socks are blue with golden stripes. He wears black shoes.
Background
The routine starts on the mainmast of a cartoony pirate ship with a black skull flag, while a parrot sits on the coach's left shoulder before he jumps off.
The ship has a red sail, a wheel, another black skull flag, a treasure chest that opens itself during the bridge, three barrels, a water bucket, a cannon, a wrapped rope, a wooden box full of apples and another one full of paper maps. On the right, there is a cartoony island with a palm tree.
During the routine, some parrots fly around, a dolphin jumps out of the water, two pirate ships in the background appear, two mice get out of a trapdoor, some pirates pop out of the barrels and a monkey with a pirate hat and an eye patch hangs on a rope.
At the end of the routine, the coach jumps back on the mainmast.
Gold Moves
There are 2 Gold Moves in the routine.
Gold Move 1: open your arms in two quarter circles while hopping to the right.
Gold Move 2: move your right arm up quickly, as if you were grabbing something falling from above.
Trivia
Fearless Pirate is the second song by Marine Band in the series.
Not counting Footloose and Waka Waka (This Time for Africa), this is the only original song in Kids Mode with lyrics.
According to a Beta album coach found in the demo files, the coach initially had a white and blue outline (instead of a yellow and purple one), and the stripes on his pants were dark red and magenta instead of red and yellow.
The song has been shortened by 55 seconds for the game.
Gallery
Game Files
In-Game Screenshots
Promotional Images
Behind-the-Scenes
Beta Elements
Others
Videos
Official Audio
Gameplay
References