"Fearless Pirate" by Marine Band is featured on Just Dance 2018 as part of Kids Mode.
Appearance of the Dancer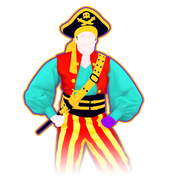 The dancer is a pirate with an atricorn hat and bandana. He wears a baggy long sleeve baby blue shirt. He wears a red vest with gold buttons. He hangs a sword in a scabbard. His pants are stripped with red and gold. He has a very thick golden striped black belt. The pirate's socks cover up a small part of his pants. His socks are blue with golden stripes. He wears black shoes.
Background

This section is a stub. You can help by adding to it.

Gold Moves
There are 2
Gold Moves
in the routine.
Gold Move 1
: open your arms in two quarter circles while hopping to the right.
Gold Move 2
: move your right arm up quickly, as if you were grabbing something falling from above.
Trivia
Gallery
Game Files
In-Game Screenshots
Promotional Images
Behind-the-Scenes
Others
Videos
Official Audio
Gameplay
References
Ad blocker interference detected!
Wikia is a free-to-use site that makes money from advertising. We have a modified experience for viewers using ad blockers

Wikia is not accessible if you've made further modifications. Remove the custom ad blocker rule(s) and the page will load as expected.