Feel This Moment
Game(s)
Just Dance 2014
Artist
Pitbull ft. Christina Aguilera
From the
Year
2013
Release Date(s)
Difficulty
Easy
Effort
No. of Gold Moves
1
No. of Shake Moves
Dancer Gender(s)

♀

Mashup
Alternate Routines
Dance Mode
Solo
Menu Color
Pictogram Color
Dark Blue
Cyan to Green (Beta)
Glove Color
Yellow
Hot Pink (Beta)
Lyrics Color
Yellow
Pictogram Count
143
Total Calories
Burnable (

kCal

)
Duration
Code Name
Preview Audio

Choreographed By
Performed By
Laura Ferretti[citation needed]
[Source]
"Feel This Moment" by Pitbull ft. Christina Aguilera is featured on Just Dance 2014.
Appearance of the Dancer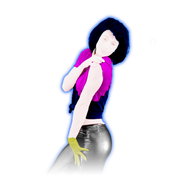 The dancer is a woman with short blue/black hair. She is wearing a tie-dye blue and purple shirt that exposes the midriff, tight sliver leather pants, blue and silver stiletto heels and red triangular earrings. The coach has a blue outline.
Background
The routine switches between backgrounds. At some points, the dance takes place in the middle of four striped walls. At other points, the dance takes places in front of neon-colored bars of different heights. The boxes and cubes in the first background is very similar to Girls Just Want to Have Fun.
Gold Moves
There is 1 Gold Move in this routine:
Gold Move: Quickly throw your arms down.
Feel This Moment appears in the following Mashups:
Feel This Moment appears in Party Master Modes. Here are the captions attributed to her dance moves:
Cross Cross
Once More With Feeling
Shake It Down
Spring Wings
Wake Me Up
Waking up
Trivia
The song was first played in the trailer; however, it was only revealed to be in the track list nearly three months later.
The song samples Take On Me by a-ha.[1]This makes it the first song in the series to sample a song that was in a previous game.
The dancer's pants are recycled from Crazy Little Thing.
This is second song by Pitbull in the series, after On The Floor. It is followed by Can't Get Enough, Timber, and Fun.
This is the second song in which Christina Aguilera is a featured artist, after Moves Like Jagger.

This is Christina Aguilera's third song in the series, after Moves Like Jagger and Ain't No Other Man. However the latter song was covered, which as a result, nullifies her only appearance in the main series as the main artist.

In this song's Just Dance Now files, there are 2 beta pictograms which are in different colors.[2]
In the preview, the pictograms change color, even though the dancer's appearance remains the same.
Just Dance Now accidentally added the avatar of this song after reaching level 2 on Turn Up the Love.
Gallery
Videos
References
Ad blocker interference detected!
Wikia is a free-to-use site that makes money from advertising. We have a modified experience for viewers using ad blockers

Wikia is not accessible if you've made further modifications. Remove the custom ad blocker rule(s) and the page will load as expected.