Good Girl
Game(s)
Just Dance 4
(NTSC/PAL DLC)
Artist
Carrie Underwood
From the
Year
2012
Release Date(s)
December 11, 2012
Difficulty

1

Effort
No. of Gold Moves
3
No. of Shake Moves
Dancer Gender(s)

♀

Mashup
Alternate Routines
Dance Mode
Solo

Menu Color(s)

Pictogram Color
Red
Glove Color
Purple
Lyrics Color
Tangerine
Pictogram Count
98
Total Calories
Burnable (

kCal

)
Duration
Code Name
Preview Audio
Choreographed By
Performed By
Laura Ferretti
[Source]
"Good Girl" by Carrie Underwood is featured on Just Dance 4 as an NTSC exclusive, but is also available as a PAL DLC.
Appearance of the Dancer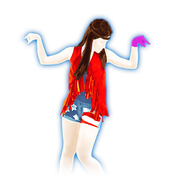 The dancer is a girl who wears a hippie based outfit. She has very long brown hair with a small headband on her forehead. She wears a red fringe jacket over a blue shirt, American flag printed shorts, and brown ankle-height high heel boots.
Background
The background is a meadow with many flowers and poppies, cottages and trees. There appears to be a cottage far off in the background. The time switches from daytime to nighttime during the third verse.
Gold Moves
There are 3 Gold Moves in the routine, all of which are all the same.
All Gold Moves: Bend your wrists with your fingers pointing to the ground. The third gold move is the final move of the routine.
Note that these are only available in the NTSC version.
One player gets 3 stars
One player gets 4 stars
One player gets 5 stars
Get all Gold Moves
Get the "Smooth" Dance style
Get GOOD when "Hey good girl" is sung
Good Girl is featured in the following Mashups:
Good Girl appears in Puppet/Party Master Modes. Here are the captions attributed to her dance moves:
American Girl
Hippie Walk
Indiana Girl
Number One
Trivia
Gallery
Game Files
In-Game Screenshots
Others
Videos
Official Music Video
Gameplays
References
Ad blocker interference detected!
Wikia is a free-to-use site that makes money from advertising. We have a modified experience for viewers using ad blockers

Wikia is not accessible if you've made further modifications. Remove the custom ad blocker rule(s) and the page will load as expected.