"Got That" by Gigi Rowe is featured on Just Dance 2018.
Appearance of the Dancer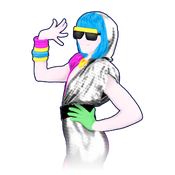 The dancer is a woman with short blue hair. She wears a pair of sunglasses and a jumpsuit with a hood that is divided into a pink half and a silver-grey half. She is also wearing a black belt, a green glove and a pair of navy high heels, and many wristbands that appear in the colors blue, yellow, and pink.
At one point in the routine, her pink parts turn purple and her blue parts turn pink[2].
Background
The routine appears to take place in front of a pool area, with palms and shapes floating around. The routine transitions between the pool scene to a white space with miscellaneous colored shapes, and a plane is also seen gliding through the space.
Gold Moves
There are three Gold Moves, both of which are the same:
All Gold Moves: Put your right hand behind your head and do a small jump to the right.
Appearances in Playlists
Got That appears in the following playlists:
Just Dance Unlimited
Trivia
Got That is the second song by Gigi Rowe in the series with the first being Run the Night.
In both the US and UK preview of Got That's gameplay, the only scoring marks that appear are "OK" and "GOOD".
The coach was first seen in an E3 promotion picture for the game.
The gameplay was shown on Just Dance's official Facebook page a few hours before it got released on Youtube.
Gigi Rowe performed the track live in Game Experience in Rock in Rio 2017, with a screen showing the full gameplay behind her and Diegho San performing the choreography.
Got That appears in the background of All You Gotta Do (Is Just Dance).
Got That is featured in the 80s playlist in Just Dance Unlimited, even though the song was released in 2017.
Gallery
Game Files
In-Game Screenshot
In-Game Screenshot
Behind the Scenes
Other
Videos
Official Music Video
Gameplay
References
Ad blocker interference detected!
Wikia is a free-to-use site that makes money from advertising. We have a modified experience for viewers using ad blockers

Wikia is not accessible if you've made further modifications. Remove the custom ad blocker rule(s) and the page will load as expected.