"Hot For Me" by A.K.A is featured on Just Dance 4.
Appearance of the Dancer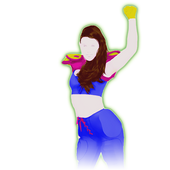 The dancer is a female football player with brown hair towards the right side of her face. Pink stripes can very faintly be seen painted on her cheeks. She wears a blue sports bra with pink and yellow shoulder pads, blue padded capri leggings, and pink and yellow sneakers.
Background
The background is a dark football stadium with some bright arrows. In the chorus, the stadium lights up, and it shows four shaded cheerleaders.
Gold Moves
There are 3 Gold Moves in the routine, all of which are the same:
All Gold Moves: Put your hands up in the air and jump. The third gold move is the final move of the routine.
One player gets 3 stars
One player gets 4 stars
One player gets 5 stars
Get all Gold Moves
Get the "Energetic" Dance style
Get GOOD when "Hot for me" is sung
Hot For Me is featured in the following Mashup:
Trivia
A few lyrics were censored and were originally censored before the song was on the game. The lines were "Bra" from "lollipop bra,"[1] which shows up as "Pop pop pop," and "Show you how to ... right." However, most websites state that it says "Show you how to dance right."
This is the third song to take place in a stadium, after Futebol Crazy and Cheerleaders Boot Camp.
The pictograms' arrows are golden while the coach's glove is more greenish-yellow.
There is an incorrectly recycled pictogram in the routine. The pictogram tells the player to put their left hand on their hip and put their right hand in the air. However, the coach puts her left arm in a 180 degree angle.
Gallery
Game Files
In-Game Screenshots
Others
Videos
Official Music Video
Gameplay
Extractions
References