"How Deep Is Your Love" by Calvin Harris and Disciples is featured on Just Dance Unlimited. It was first available for the Nintendo Switch before it was released to the other consoles.[2][3] It was later released on Just Dance Now.
Appearance of the Dancer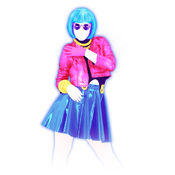 The dancer is a turquoise-haired woman with pink sunglasses and gold jewelry. She also has an indigo cropped tank, a pink jacket, a blue skirt, and pink boots with black edging. Her glove is a lighter pink.
Background
The background is mainly orange and yellow with pink colored lines just like Cool For The Summer. During the chorus, the background turns blue and purple with sky blue squares, rectangles and yellow rounded squares.
Gold Moves
There are 3 Gold Moves in this routine, all of which are the same:
All Gold Moves: Put your hands together and swing them from side to side.
How Deep Is Your Love appears in the following Dance Quest map:
Trivia
How Deep Is Your Love is the fifth song by Calvin Harris in the series.
The routine for How Deep Is Your Love can be briefly seen in the Nintendo Switch reveal.[4]
The pictograms have red arrows, in spite of the coach's glove being pink.
In the YouTube thumbnail for the official gameplay to celebrate the announced release on Just Dance Unlimited, the coach is flipped, causing the glove to be on her left hand.
The avatar is currently unselectable in the Switch version but is available for all other consoles.
When the avatar is unlocked on the Switch, it does not have any sound effects.
The repeated lines "So tell me how deep is your love"/"Can it go deeper?"/"So tell me how deep is your love"/"Can it go deep?" during the bridge are not included in the lyrics.
In the menu assets, the coach's outfit is much lighter, and the red elements are more pointed to pink. Her outline is different too, being blue instead of pink.
A Beta screenshot shows the coach's glow fading towards her feet as is usually the case when coaches have a soft glow for an outline. However, in the final gameplay, she glows around her entire body.
When Ubisoft uploaded a preview gameplay to announce that How Deep Is Your Love was released on all consoles, the Just Dance 2018-styled thumbnail was used.
How Deep Is Your Love was removed from Just Dance Now for about one week. It was added back around the end of August 2017.
The video shown on the dash.justdancenow.com link has the same pictogram effects as the video of the Chiwawa's Remastered version video.
The golden and diamond versions of the avatar are seen with differently shaped glasses and collar.
The album background is mirrored.
The menu banner has a CRT TV effect.

This is also the case with the menu banner for The Greatest.
Gallery
Game Files
In-Game Screenshots
Others
Videos
Official Music Video
Gameplays
References