I'm Your Man
Game(s)
Just Dance Wii 2
Artist
2PM
From the
Year
2011
Release Date(s)
Difficulty
3+ (Hardest)
Effort
2 (Medium)
No. of Gold Moves
5
No. of Shake Moves
Dancer Gender(s)
Male
Mashup
Alternate Routines
Dance Mode
Solo
Menu Color(s)
Pictogram Color
Red
Glove Color
Yellow
Lyrics Color
Pictogram Count
119
Total Calories
Burnable (

kCal

)
Duration
Code Name
Preview Audio
Choreographed By
Performed By
Yoni Jayl
[Source]
"I'm Your Man" by 2PM is featured on Just Dance Wii 2.
Appearance of the Dancer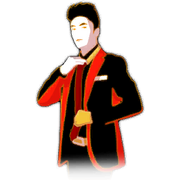 The dancer is a male teenager with black hair that is shaved on the sides and fluffy on the top. He wears a black shirt, a red tie that he later gets rid of, a black and orange jacket, a gold belt, black pants and a pair of orange shoes.
Background
The background has a lot of sparkle lights and shapes behind the dancer. As with Feel This Moment and #thatPOWER, it looks like another dimension or in a space station.
Gold Moves
There are 5 Gold Moves in the routine:
Gold Moves 1 and 2: Put your hands behind you and shake them.
Gold Move 3: Put your hands behind your head.
Gold Move 4: Just put your hands out.
Gold Move 5: Spin around. This concludes the routine.
Trivia
This is the one of the hardest songs in the game (along with We Can Fly) based on Difficulty, but there is Breakdown mode for this song.
The dancer resembles Take On Me, P1 of Walk This Way and Why? (Keep Your Head Down).
The dancer takes his tie off near the end and dances with it, before throwing it away.
Some moves from this routine are reused in the Extreme version of Fine China.
Gallery
Videos
Ad blocker interference detected!
Wikia is a free-to-use site that makes money from advertising. We have a modified experience for viewers using ad blockers

Wikia is not accessible if you've made further modifications. Remove the custom ad blocker rule(s) and the page will load as expected.