"Jailhouse Rock" by Elvis Presley is featured on Just Dance 4, Just Dance Now, and Just Dance Unlimited.
Appearance of the Dancers
Classic
The dancers are wearing 50s fashion attire. They all have a orange outline.
P1
P1 is a man with short black hair; he wears an orange suit with a pair of matching orange trousers and a pair of black shoes.
P2
P2 is a woman with long black hair; she wears a red-and-white spotted top, a red skirt, and a pair of black high heels.
P3
P3 is a man with black hair styled in a similar way to Elvis Presley's; he wears a reddish-orange shirt, a small black leather jacket, a pair of black trousers and a pair of black shoes.
P4
P4 is a woman with black hair; she wears a red-sleeved shirt, a pair of pink trousers and a matching pink bra.
Line Dance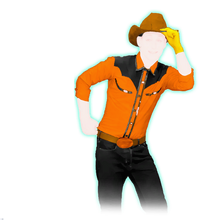 The first dancer has black hair, a red cowgirl hat, an aqua glove, a red skirt, an orange top and black boots. The second dancer has short black hair, a brown cowboy hat, an orange cowboy shirt, a yellow glove, a brown belt, black trousers and brown boots. The third dancer has black hair, an orange cowgirl hat, a light blue glove, a short brown top, an orange belt, brown trousers and black boots. Only the second dancer is playable.
Background
The background looks like a jukebox with vinyl records inserted. In the background, an old-style microphone can be seen. The platform on which the dancers are dancing on seems to be a huge record with flashing lights by the borders.                 
Gold Moves
Classic
There is only one Gold Move in this routine. It is a right-to-left wave Gold Move.
​P4: Cross your hands out in front of you, then place them on your head.
P3: Pretend to comb your hair with your right hand.
P2: Put your hands up near your head and shake them slightly.
P1: Move your arms in a circle in front of your face.
Line Dance
There are two Gold Moves in the Line Dance; they are only available in Just Dance Unlimited and Just Dance Now.
All Gold Moves: Lift up your right leg and open your arms to the left.
PS3, Wii U
All 4 players get 3 stars
One player gets 5 stars
Get 5 stars on the Dance Mash-Up
Get 5 stars on the Alternate Version
Get all Gold Moves
Get GOOD while playing leg guitar
Wii, Xbox 360
All 4 players get 3 stars
One player gets 4 stars
One player gets 5 stars
Get all Gold Moves
Get the "In rhythm" Dance style
Get GOOD while playing leg guitar
Mashup
Jailhouse Rock has a Mashup which is exclusive to the PlayStation 3 and Wii U.
Dancers
Crying Blood
Tightrope (Solo Version)
Umbrella
Kids Of America
Maniac
Pump It
Hey Ya
Trivia
This is Elvis Presley's third song in the series. It follows A Little Less Conversation from Just Dance, and Viva Las Vegas from Just Dance 2.
This is the oldest song on Just Dance 4.
The dance routine appears in the music video for Alfonso Signorini (Eroe Nazionale).
As is the case with Oh No! in the same game, the Line Dance features a trio while only the lead dancer is playable.

However, the backup dancers in Oh No! are not exactly human, while these ones are.
The background dancers have gloves.

With the exemption of Just Dance 4's Mashups, Jailhouse Rock's Line Dance is the first post-Just Dance routine to not have any Gold Moves. It is followed by Blurred Lines's Fanmade routine on Just Dance Now.
The coaches were likely going to have different color palettes, as the Just Dance Now files contain a pictogram that is Blue/Orange/Black/Yellow instead of Orange/Red/Black/Pink.
This song was the first to have a Line Dance routine in the series. It is followed by Hit The Road Jack.
The Line Dance is the first Alternate routine to appear in multiple games.
All four coaches from the Classic routine make an appearance in the background for You're The One That I Want as black silhouettes.
The Gold Move pictogram for the Line Dance looks like a Just Dance 4 Gold Move pictogram. Therefore, the Gold Move might have been intended to be in that game as well.
The Alternate Routine is featured in the Trios playlist in Just Dance Now, this is weird due to you can only play as one coach, a possible reason for this mistake could be that the square features three coaches.
Also this song alternate and Starships alternate are the only alternate routines in Just Dance Now who says the alternate theme instead of be simply be labeled as "ALTERNATE".
Gallery
Videos
References
v - e - d

Puppet/Party Master Modes
Ad blocker interference detected!
Wikia is a free-to-use site that makes money from advertising. We have a modified experience for viewers using ad blockers

Wikia is not accessible if you've made further modifications. Remove the custom ad blocker rule(s) and the page will load as expected.