Jerk It Out
Game(s)
Just Dance
Artist
Caesars
From the
Year
2003
Release Date(s)
Difficulty

3

Effort

3

No. of Gold Moves
8 (Remake)
No. of Shake Moves
Dancer Gender(s)

♂

Mashup
Alternate Routines
Dance Mode
Solo
Menu Color
Pictogram Color
Red
Elf Green (Remake)
Glove Color

Red

(Remake) (Arrows)
Lyrics Color
Turquoise (Remake)
Pictogram Count
79
Total Calories
Burnable (

kCal

)
Duration
Code Name
JerkItOut
Preview Audio

Choreographed By
Performed By
Jérémy Paquet
[Source]
"Jerk It Out" by Caesars is featured on Just Dance. 
Appearance of the Dancer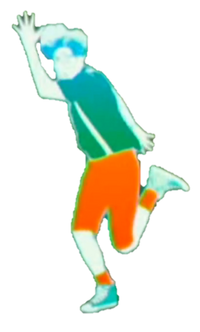 The dancer is a man with blue-white frizzy hair. He wears a green shirt, an orange bow tie, orange knee-length pants with white suspenders, and blue shoes with orange socks.
Background
The background appears to be a library. The color of the background is white and green. There are some bookshelves at the sides of the background and there is flying paper sheets falling down from the ceiling.
Gold Moves
8 Gold Moves have been found in the song's Just Dance Now files.
Gold Moves 1, 2, 5 and 8: Put your right arm up and your left one on your hip in a disco pose.
Gold Move 3: Move your arms to the right in a semicircle.
Gold Move 4: Same as Gold Move 3 but this time in the opposite direction.
Gold Move 6: Move your right arm in a circle.
Gold Move 7: Move your right arm to the left.

Jerk It Out is featured in the following Mashups:
Jerk It Out appears in Puppet Master Modes in Just Dance 4. Here are the captions attributed to his dance moves:
Nerd Kisses
Nerdy
Nerdy Braces
Nerdy Run
Sporty Nerd
Super Nerd
Trivia
There is a lyric error. The line says: "Can't you hear you talk to loud?" instead of: "Can't you hear you talk too loud?".
The beta version of the dancer had a slightly lighter colour scheme and he looked more like a cartoon character.

Also, in the beta version the background was slightly darker.

This is one of the only two songs that has both a difficulty and an effort of 3 in Just Dance. The other song is Acceptable in the 80s.
Caesars is one of the two artists of Swedish descent to be featured in the first Just Dance game. The other one is Rednex.

They are later followed by Ylvis.
Gallery
Videos
References
Ad blocker interference detected!
Wikia is a free-to-use site that makes money from advertising. We have a modified experience for viewers using ad blockers

Wikia is not accessible if you've made further modifications. Remove the custom ad blocker rule(s) and the page will load as expected.