"Joyful (じょいふる)"by Ikimono-gakari (いきものがかり) (covered by Takken Megumi (達見恵) in-game) is featured on Just Dance Wii 2.
Appearance of the Dancer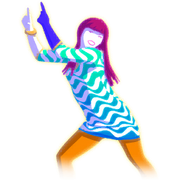 The dancer is a Japanese teenager with Hot Pink hair. She wears a turquoise-and-white wavy patterned dress, orange leggings, and white-and-purple sneakers.
Background
The background looks like a classroom. There is a board that says "Joyful" and "ジャストダンス", streamers, wrapping paper & balloons in the air as well as cards.
Gold Moves
There are 5 Gold Moves in this routine:
Gold Moves 1, 2 and 5: Throw both hands in the air as if in shock.
Gold Move 3: Pull both hands down.
Gold Move 4: Throw your hands down, just below your hips.
Trivia
The Japanese sign lying on the floor reappears in the background of Gakuen Tengoku without some details.
The Gold Move pictograms have the same colour as normal pictograms.
The first, second, and fifth Gold Moves are recycled from She's Got Me Dancing.
When Joy! is repeated several times towards the end, it fails to appear in the lyrics.
The fourth Gold Move and its related pictogram are reused from Crying Blood.
Gallery
Videos
Official Audio
Gameplay
References
Ad blocker interference detected!
Wikia is a free-to-use site that makes money from advertising. We have a modified experience for viewers using ad blockers

Wikia is not accessible if you've made further modifications. Remove the custom ad blocker rule(s) and the page will load as expected.