"Jungle Drum"[1] by Emilíana Torrini is a beta Just Dance 3 routine. It was taken out of the game for unknown reasons.
Appearance of the Dancer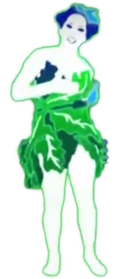 The dancer is wearing a green leaf dress with a blue glove. She also has a blue flower in her hair with blue hair as well. She is barefoot.

Background
The background was going to be set in a red jungle with blue vines and purple leaves.
Captions
Jungle Drum is featured in Puppet Master Modes in Just Dance 4. Here are the captions attributed to her dance moves.
Dancing Leaf
Falling Leaf
Rolling Leaf
Trivia
Gallery
Videos
Official Music Video
Gameplays
Extractions
References
Ad blocker interference detected!
Wikia is a free-to-use site that makes money from advertising. We have a modified experience for viewers using ad blockers

Wikia is not accessible if you've made further modifications. Remove the custom ad blocker rule(s) and the page will load as expected.