Just Dance (song)
Game(s)
Just Dance 2014
Just Dance 2015 (DLC)
Just Dance Wii U
Just Dance Now
Just Dance Unlimited
Artist
Lady Gaga ft. Colby O'Donis
From the
Year
2008
Release Date(s)
February 11, 2014 (Sweat) (JD2014)
October 21, 2014 (Classic) (2015)
August 4, 2016 (Sweat) (NOW)
Difficulty
Hard (Classic/On-Stage)
Medium (Sweat/Classic only for JDWU)
Effort
No. of Gold Moves
6 (Classic)
4 (On-Stage/Sweat)
No. of Shake Moves
Dancer Gender(s)

♀

(Classic)


♀

/

♀

/

♀

(On-Stage)


♂

(Sweat)
Mashup
Only on 2014
Alternate Routines
On-Stage Mode
Party Master Mode
Sweat (2014 DLC)
Dance Mode
Solo (Classic/Sweat/Mashup/Party Master)
Trio (On-Stage)

Menu Color(s)

Pictogram Color
Navy Blue to

Violet Eggplant

(Classic)
Red Berry/Scorpion/Red Berry (On-Stage)


Blue Chill

(Sweat)
Glove Color
Cyan to Light Green (Classic)
Yellow/Red/Yellow (On-Stage)
Red (Sweat)
Lyrics Color
Light Blue (Classic/MashUp)
Dark Yellow (On-Stage)
Red (Sweat)
Pictogram Count
143 (Classic)
97 (On-Stage)
124 (Sweat)
141 (Mashup)
Total Calories
Burnable (

kCal

)
Duration
Code Name
JustDance
Preview Audio

Choreographed By
Performed By
Classic
Aurélie Sériné
On-Stage
Aurélie Sériné (P1)
Juliana Herrera (P3)
Sweat
Tonbee Cattaruzza
[Source]
"Just Dance" by Lady Gaga ft. Colby O'Donis is featured on Just Dance 2014, Just Dance Wii U, Just Dance Now, Just Dance 2015 (as a DLC), and Just Dance Unlimited.
Appearance of the Dancers
Classic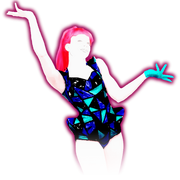 The coach is a woman wearing what appears to be a one-piece leotard with a triangle mosaic pattern in various shades of blue. She also has long hot pink hair pulled into a long ponytail. She's also wearing a cyan glove and a pair of high heels with a similar square mosaic pattern. When the techno part of the song begins, the mosaic patterns illuminate into pink, bluish green, and purple, and her skin turns pitch black. Her hair also turns neon blue, and the glove turns neon green. After this bridge, the color returns to normal. As for behavior, she dances like and carries herself very much like Lady Gaga, and even does the one eye and number six hand signals during the gold moves.
On-Stage
The lead dancer looks similar to Lady Gaga. She has long orange-red ombre hair and is wearing black shades. She is in a silver metallic catsuit with cutouts and black ankle boots. The backup dancers are females who both have black fluffy hair and are wearing red low cut swimsuit-like suits and gray heels. They are also wearing red diamond masks and long yellow gloves.
Sweat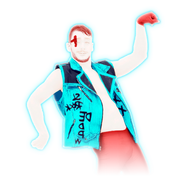 The Sweat dancer is a man with red hair in a buzz cut. He also has a thinly cut beard. His left eye has a red lighting bolt over it. He is not wearing a shirt, but he does have a blue jacket with various black writings all over it. He appears to be wearing red skinny jeans. His socks are almost knee-high, and are blue and red. He is wearing black gym shoes.
Background
In the beginning of the song, there are four stained glass windows, with coaches on it (California Gurls, Disturbia, What You Waiting For, and Crucified). In the chorus, there are lots of stained glass windows with the characters from the previous verse on them. In the second verse, there are four mosaic windows, with more coaches on them (Applause, E.T, Gangnam Style (P2), and Ring My Bell). In Colby's part, yet another four coaches appear (Rasputin/Y.M.C.A./Hungarian Dance No. 5, Hey Ya, So What, and Moves Like Jagger/Y.M.C.A.). During the last chorus, the stained glass windows show the first four coaches.
Gold Moves
Classic
There are 6 Gold Moves in the Classic routine:
Gold Moves 1, 2, 5 & 6: Put your right arm up and instantly put it down. It is done at the beginning of the chorus.
Gold Moves 3 & 4: Put your right hand over your right eye.
On-Stage
There are 4 Gold Moves in the On-Stage routine, all of which are the same:
All Gold Moves: Back-up dancers shake their hands in the air, lead dancer does it toward the screen.
Sweat
There are 4 Gold Moves in the Sweat routine, all of which are the same:
All Gold Moves: Jump and hit the air with your fist.
Just Dance has an unlockable Mashup on Just Dance 2014.
Dancers
Just Dance
On The Floor
Ghostbusters (Sweat)
California Gurls
She Wolf (Falling to Pieces)
Crazy in Love
On The Floor
Disturbia
#thatPOWER (Extreme)
On The Floor
Disturbia
Follow The Leader
California Gurls
On The Floor
Disturbia
Just Dance
Party Master Mode
Just Dance has a Party Master Mode. Here are the captions in order of appearance: (Captions in bold indicate a Song Switch.)
Just Dance
Just Dance
Just Dance
Just Dance appears in the following Mashups:
Classic
Sweat
The Classic and Sweat dancers for Just Dance appear in Party Master Modes. Here are the captions attributed to their dance moves:
Classic
Claws Balance
Cleaning the floor
Dark Stand
Just Walk
Tortured Walk
Broken Puppet
Mechanic Walk
Sweat 
Just Dance appears in the following Dance Quest maps:
Trivia
In the Mash-up, there is a glitch. When Feel So Right appears, the coach and her pictograms are missing, and no moves will be counted until California Gurls appears.
Just Dance is the first song by Lady Gaga in the series. It is followed by Applause, Bad Romance, Born This Way, and John Wayne.

This is the only by her with a featured artist.

The title of the Just Dance series is derived from the title of this song.
On September 18, 2013, Just Dance was leaked by an Ubisoft employee who uploaded the gameplay to his personal channel. Two minutes later, it received a copyright strike from Ubisoft. Meanwhile, copies of the gameplay were uploaded to download servers and many YouTube channels.[1][2]
Just Dance will always be the first recommended song in Just Dance 2014 and Just Dance Wii U when the games are played for the first time.
In the background, there are twelve Just Dance coaches (eleven from past games and one from 2014).

In relation to the new dancer the background, which turned out to be Applause, when the preview of the song came out, Applause was still unknown.

In the On-Stage routine the backup dancers look like they're identical twins and wear outfits that are very similar to each other.
Most of the dancers shown in the background are females. The male ones shown were the ones from Rasputin, Hey Ya, and Moves Like Jagger. They appear during Colby's part.

Likewise, in the Mashup, most of the dancers who appear during Lady Gaga's part are female, and most of the dancers who appear during Colby's part are male.

Each installment number of the game (up until Just Dance 4) determines how many coaches from that game are shown in the background; one from the first installment, two from Just Dance 2, three from Just Dance 3, and four from Just Dance 4 (non-DLC).
In a trailer revealing some unknown routines, which says "Adding new flavors to the mix", one of the dancers is seen wearing the same suit as the dancer from the classic mode. The only difference is that the suit is in a different color scheme.
The classic dancer's silhouette can be seen at the bottom right of all the Just Dance 2014 Facebook awards.
On an image showing all of the avatars that are on Just Dance 2014 (see in Gallery), a beta version of Just Dance's avatar can be seen on there, and the avatar has no ponytail and has longer hair.

This could mean that the dancer was originally going to have longer hair.

On the downloadable version for Just Dance 2015 and further, less moves are counted for than on its debut until Just Dance Now.
The Classic coach appears as a cameo in the background of Uptown Funk.

She also appears in the teaser for the song I'll House You by Don Diablo ft. Jungle Brothers, along with the Wild coach and the Barbra Streisand coach.[3]

In the Sweat routine, the coach's glove will glitch from red into light blue whenever he touches his socks.
This is one of the songs to have a Dancemas ornament. [4]
From April 21 until May 4, 2016, this song was free on Just Dance Now, likely to commemorate International Dance Day.
Gallery
Videos
Official Music Video
Gameplays
References
v - e - d

Puppet/Party Master Modes
Ad blocker interference detected!
Wikia is a free-to-use site that makes money from advertising. We have a modified experience for viewers using ad blockers

Wikia is not accessible if you've made further modifications. Remove the custom ad blocker rule(s) and the page will load as expected.