"Kids in America" by Kim Wilde (covered by The Just Dance Kids in-game on Just Dance Kids) is featured on Just Dance, Just Dance 3 (as a DLC) and Just Dance Kids.
Appearance of the Dancer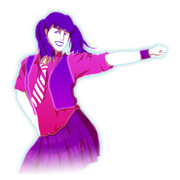 The dancer looks like a schoolgirl. She has purple hair in two pigtails, a pink shirt, a purple & white striped tie, a purple vest, a purple checkered skirt, pink knee-length socks, and purple sneakers.
Background
Just Dance
The background is an empty city, with a lattice, three lamp posts and skyscrapers.
Just Dance 3
In the Just Dance 3 version, it is pinker and it has some flashing lights behind the skyscrapers, along with some fog. A ringing bell can be briefly hard at the beginning of the routine.
Remake
In the remake, the background has some 2D houses, a fence, some 2D arrows in American style, pedestrian crossings, and shadows of skyscrapers. There are some angulation changing effects, the houses and the arrows glow; furthermore, a ringing bell can be heard at the beginning.
Gold Moves
There are 6 Gold Moves in this routine on Just Dance 3, all of which are the same:
All: Throw both of your arms outward.
Kids in America appears in the following Mashups:
Trivia
The lyrics contain a minor capitalization error: the Y in New York (in the line New york to East California) isn't uppercase.
The background closely resembles New York City.
Some elements from the remake are recycled in Uptown Funk.
As of an unknown date, the remake found in the Just Dance Now files was updated to a newer one[2]. There are several differences between the two versions:

The coach appears to be darker and with a thicker outline.
The color palette in the updated remake is much brighter.
The older one starts with some cheering sounds, while the newer one starts with a ringing bell.
In the older one, the coach's silhouette fades in before the opening circular effect; in the nwer one, instead, the circle opens and zooms in towards the coach, who already has all her colours.
There are many more animations and zoom effects in the updated version.
Gallery
Game Files
Screenshots
Others
Videos
Official Music Video
Gameplays
Extractions
References
Ad blocker interference detected!
Wikia is a free-to-use site that makes money from advertising. We have a modified experience for viewers using ad blockers

Wikia is not accessible if you've made further modifications. Remove the custom ad blocker rule(s) and the page will load as expected.