"Lay All Your Love on Me" by ABBA is featured on ABBA: You Can Dance, Just Dance Unlimited, and Just Dance Now.
Appearance of the Dancer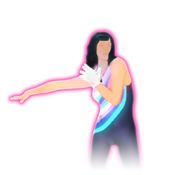 The dancer is a woman with medium-length black hair. She wears a one-sleeved blue and purple tank top, navy pants, and brown heels.
Background
The background has a lot of grey and blue triangles that vary in size and a gold flashing ABBA logo. Unlike other songs with a background like this, the triangles only move in the beginning.
Gold Moves
Original
There are 3 Gold Moves for this song, and they are the same:
All Gold Moves: Bring your hands down from your head in front of you.

Remake
There are 3 Gold Moves in the remake, and they are the same.
All Gold Moves: Rise your hands up in the air. The third Gold Move is the final counted move of the routine.

Trivia
In the remake, the arrows have a thin pink outline.
The moves performed after the final Gold Move are not counted in the remake if the player is using controllers, while systems operating with camera sensors, do count the moves.
The original code name for the remade version was "Lay", but it was then changed to "ABBALayAllYourLove".
Gallery
Game Files
In-Game Screenshots
Promotional Images
Beta Elements
Videos
Official Music Video
Gameplays
Extraction
References