"Like I Would" by Zayn is featured on Just Dance 2017, Just Dance Unlimited , 舞力全开2017 and Just Dance Now.
Appearance of the Dancer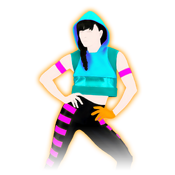 The coach is a girl who has black hair in a braid lying on the left, a jade-colored cropped tank with a hoodie, two hot pink arm bracelets, black leggings with magenta stripes on the sides, and blue trainers.

Background
The background contains flowing electronic waves which often change color from blue to magenta and shades of red. They have lots of animations throughout the song, such as parts that light up separately, and magenta exploding circles.
Gold Moves
There is only one Gold Move in the routine.
Gold Move: Strike your hand towards the right.
Like I Would appears in the following Dance Quest maps:
Trivia
Like I Would was leaked on the Brazilian box art for the game.
Like I Would is Zayn's solo debut in the main series. If his work in One Direction is taken into consideration, this is his seventh entry overall in the series, after What Makes You Beautiful, One Thing, Kiss You, One Way Or Another (Teenage Kicks), Best Song Ever, and No Control.
The background of Like I Would is inspired by its music video, as it has similar relationship with the glowing and dim lines in the background.
In the credits of this song, "Zayn" is credited as "Zain", which is his birth name.
Like I Would is one of the songs selected for the digital qualifications of Just Dance 2016 World Cup.[1]
Like I Would, along with Last Christmas, is on Just Dance Unlimited for Nintendo Switch only, because the two songs are replaced by Chiwawa and William Tell Overture on the main tracklist for said console.
The Just Dance Now preview seems to be slightly off-sync.
Gallery
Game Files
Screenshots
Others
Videos
Official Music Video
Gameplay
References