Livin' la Vida Loca
Game(s)
Just Dance 4
Just Dance Wii U
Artist
Ricky Martin
From the
Year
1999
Release Date(s)
Difficulty

3

(JD4/Mashup)


1

(JDWU)
Effort
No. of Gold Moves
5
No. of Shake Moves
Dancer Gender(s)

♂

Mashup
Only on Wii U and PS3
Alternate Routines
Dance Mode
Solo
Menu Color
Crimson
Pictogram Color
Tabasco
Glove Color
La Palma
Lyrics Color
Fire Orange
Cyan (Mashup)
Pictogram Count
134 (Classic)
101 (Mashup)
Total Calories
Burnable (

kCal

)
Duration
Code Name
Preview Audio
Choreographed By
Performed By
Jérôme Couchart
[Source]
"Livin' la Vida Loca" by Ricky Martin is featured on Just Dance 4 and Just Dance Wii U.
Appearance of the Dancer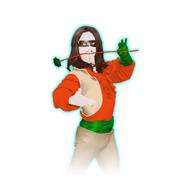 The dancer is a man with long brown hair. He wears a black mask, an orange long-sleeve shirt, a beige vest, a light green belt, some beige pants and a pair of black leather boots.
Background
A moving carriage with many bags on a road in a desert. During the second part of the verses, many wooden boards are on the sides of the road, and, in the chorus, a lot of smoke covers the screen.
Gold Moves
There are 5 Gold Moves in the routine:
Gold Moves 1 and 3: Open both of your arms when.
Gold Move 2: Act like a "matador" and throw both of your arms to the right side of you.
Gold Move 4: Open your arms wider than the first and third gold move.
Gold Move 5: Bow forth, with your right arm on your stomach. This is the final move of the routine.
PS3 and Wii U
One player gets 3 stars
One player gets 5 stars
Get 5 stars on the Dance Mash-Up
Get all Gold Moves
Get the "Creative" Dance style
Get GOOD when "Upside inside out" is sung
Wii and Xbox 360
One player gets 3 stars
One player gets 4 stars
One player gets 5 stars
Get all Gold Moves
Get the "Creative" Dance style
Get GOOD when "Upside inside out" is sung
Mashup
Livin' la Vida Loca has a Mashup exclusive to the PS3 and Wii U versions of the game.
Dancers
Livin' la Vida Loca
It's Not Unusual
Take on Me
Umbrella
Crying Blood
Cheerleaders Boot Camp
It's Not Unusual
Crazy Christmas
Livin' la Vida Loca
Battle
Livin' la Vida Loca has a battle against Rock n' Roll (Will Take You to the Mountain). For the battle, click here.
Livin' la Vida Loca is featured in the following Mashups:
Trivia
This is the first song by Ricky Martin in the series; it is followed by María in Just Dance 2014.
After the Classic routine ends, sometimes on the Wii, Super Bass appears in the Final Score menu instead of the appropriate dancer.
This is the sixth Spanish song in the series, after Boom, Mamasita, Jambo Mambo, Aserejé (The Ketchup Song) and I Like It. It's followed by María,Limbo, Can't Get Enough, Follow The Leader, Macarena, Rabiosa, Junto a Ti, El Tiki, Hips Don't Lie and La Bicicleta.
This is the third song from Shrek 2. It is preceded by Funkytown and Accidentally in Love and is followed by Holding Out for a Hero.
The pictogram bar to the Mashup begins flashing as soon as the purple transference screen flashes.

Plus, the pictograms for Cheerleaders Boot Camp are red with yellow props instead of lime green with indigo props.

Starting with the line "Gotta gotta la vida loca", the lyrics aren't highlighted.

This occurs in both the mashup and the classic mode.
However, this doesn't apply to the Xbox 360 or Wii U.

The song has an unused Puppet Master Mode which remains in the Wii U files of Just Dance 4.
Gallery
Videos
References

This section is a stub. You can help by adding to it.

Ad blocker interference detected!
Wikia is a free-to-use site that makes money from advertising. We have a modified experience for viewers using ad blockers

Wikia is not accessible if you've made further modifications. Remove the custom ad blocker rule(s) and the page will load as expected.