This article is about EXILE's song. You may be looking for John Newman's song with a similar name.
"Lovers Again" (ラバーズアゲイン) by EXILE is featured on Just Dance Wii 2. 
Appearance of the Dancer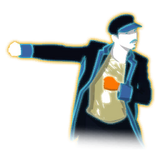 The dancer is a man. He wears a black beret, and he has a mustache, a black and blue jacket, gray glittered shirt underneath, orange glove, navy blue pants, and a pair of grey shoes.
Background
The background looks like a living room, with black parquet, grey carpet, a chandelier, a fireplace, and two windows that show a snowy sky.
Gold Moves
There are 5 Gold Moves in this routine:
Gold Moves 1 and 3: Touch your chest with your legs open.
Gold Moves 2 and 4: Open your arms with your right leg on front of your left leg.
Gold Move 5: Point to the sky with your right hand.
Trivia
This is the third song by EXILE in the Japanese version of the series, after Won't Be Long and Choo Choo TRAIN.
The background is heavily inspired from the music video.
This is the only EXILE song to be a Solo routine.
​Gallery
Videos
Official Music Video
Gameplay
References

This section is a stub. You can help by adding to it.