"Make It Jingle" by Big Freedia is featured on Just Dance 2018, Just Dance Now, and Just Dance Unlimited.
Appearance of the Dancer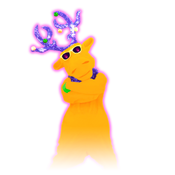 The dancer is an orange reindeer with sunglasses, purple antlers with ornaments, a purple scarf with a gold chain, and pink and white shoes.
Background
The background contains a wall of speakers, two zigzag Christmas trees with several presents, a snowman wearing a golden cap and holding a golden boombox, and a golden truck with a present in the back. The walls and floor start off as purple, switching to white and then red. While white, the presents open and bounce to the beat. The left tree will also do this, while the right tree spins. While red, the presents are open and spray out white dust. While purple, both of these actions happen.
Gold Moves
There are 3 Gold Moves in this routine. Gold Moves 1 and 2 are done consecutively:
Gold Move 1: Shake your hands above your head and kick your left foot.
Gold Moves 2 and 3: Spin your right hand in a clockwise motion and turn to the right.
Trivia
Make It Jingle is the fourth Christmas-themed track in the series.
The final line, ''Don't lose 'em, b***h'', is censored.
In the E3 demo, the lyrics color was turquoise green; in the Gamescom version of the game, instead, they appear to be green.
Gallery
Game Files
In-Game Screenshots
Promotional Images
Others
Videos
Official Music Video
Gameplays
References