Me Too
Game(s)
Just Dance Unlimited
Just Dance Now
Artist
Meghan Trainor
From the
Year
2016
Release Date(s)
February 23, 2017 (

JDU

)
March 6, 2017 (NOW)
Difficulty
Effort
No. of Gold Moves
3
No. of Shake Moves
Dancer Gender(s)

♀

Mashup
Alternate Routines
Dance Mode
Solo
Menu Color

Supernova-Amber

Pictogram Color

Violet Eggplant

Glove Color
Melrose
Lyrics Color
Pale Blue
Pictogram Count
112
Total Calories
Burnable (

kCal

)
Duration
Code Name
MeToo
Preview Audio
Choreographed By
Performed By
Leónie Mauger [citation needed]
[Source]
"Me Too" by Meghan Trainor is featured on Just Dance Unlimited and Just Dance Now.
Appearance of the Dancer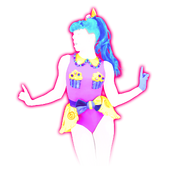 The dancer is a woman with long blue hair tied in a ponytail with a yellow bow. She has long blue bangs and wears a purple leotard with a yellow collar and yellow and blue muffins on it. She wears a matching belt that is colored the same way and wears purple high heels.
Background
The coach comes out of a vanilla cake with candles, frosting, a muffin on the top, spotted lights around the border and decorations such as icecream cones and cream puffs; behind the cake, there is a wall with three big windows and triangular festoons.
At the beginning, the cake is black with neon-coloured outlines, the candles are aqua and the room is black with pink light effects. In the verses, the cake turns to its normal palette (mostly yellow, purple, light blue and green), the candles turn pink and white and the room is much more illuminated; then, the cake turns to a palette composed of red and purple gradients. In the chorus, the cake has some glowing and light effects, and the palette from the verses is used, with a higher saturation; the room, instead, turns light blue with some moving spotlights. In the bridge, the background turns into the neon palette used in the beginning.
Gold Moves
There are 3 Gold Moves in this routine, all of which are the same:
All Gold Moves: Raise your right arm up in a semicircle and lift your left leg up, in a stiff pose.
Trivia
Me Too is the third song by Meghan Trainor in the series, after All About That Bass and Better When I'm Dancin'.
In the menu images and coach selection image, the coach is seen in a color scheme that is brighter than the scheme used in the actual routine. Additionally, the background in the square is brighter than in the actual routine.
When Me Too was first released in Just Dance Unlimited, the song title had a capitalization error where the letter T in Too was in lower case, thus the song title reads as Me too.[1]

This also happened when this song was released onto Just Dance Now on March 6, 2017.
This is the first time that it's happened. The second time is on Side to Side.

This pictogram appears repeated twice in the first two pre-choruses, but it is only used once in the last one.
Me Too is the Just Dance Unlimited song with the shortest pictograms sprite so far (only 20 pictograms).
Gallery
Videos
References
Ad blocker interference detected!
Wikia is a free-to-use site that makes money from advertising. We have a modified experience for viewers using ad blockers

Wikia is not accessible if you've made further modifications. Remove the custom ad blocker rule(s) and the page will load as expected.