"Merengue" by Chucho Merchan, covered by Sweat Invaders is featured in Just Dance 3 as a DLC.
Appearance of the Dancer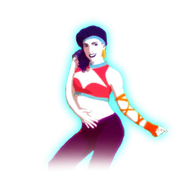 The dancer is a woman with long blue hair in a tail and an aqua headband on top of it. She has a set of golden earrings and an ochre fingerless glove. She wears many bracelets and a red and white bra. She also has dark purple pants with magenta and aqua decorations on the back and a pair of orange & aqua sneakers.

Background
The routine takes place within a gym. There are two posters decorated with light blue palm trees on the walls, as well as exercise equipment and dark yellow cabinets.
Gold Moves
There are 4 Gold Moves in the routine:
Gold Moves 1, 2 and 3: Snap your arm.
Gold Move 4: Open your arms with the right one above the other (similar to that of I'm So Excited). This is the final move of the routine.
Merengue appears in the following Mashup:
Trivia
In a similar way to Skin-To-Skin, the singer "speaks" (singing is this case), although it is not written down as lyrics.
The palms and the drums from Jambo Mambo are visible at each side of the background.
The routine is the sister routine of Touch Me Want Me, as both routines have the same shaped outfits and background layouts. The only difference is the colors.
Gallery
Videos
Official Music Video
Gameplays
Extractions
References

This section is a stub. You can help by adding to it.