| | |
| --- | --- |
| | The Manual of Style has been updated, and this article requires major reformatting to comply with the MoS. Help this Wiki by editing it. |
Mickey
Game(s)
Just Dance Wii
Just Dance Kids
Artist
Toni Basil (JDK)
Gorie with Jasmine and Joann (JDW)
From the
Year
2003
Release Date(s)
Difficulty
1 (Easy) (JDW)
2 (Medium) (JDK)
Effort
3 (Exhausting) (JDW/JDK)
No. of Gold Moves
4 (JDW)
1 (JDK)
No. of Shake Moves
Dancer Gender(s)

♀

(JDW/JDK)
Mashup
Alternate Routines
Dance Mode
Solo

Menu Color(s)

Pictogram Color
Orange
Glove Color
Yellow
Lyrics Color
Pictogram Count
73 (JDW)
29 (JDK)
Total Calories
Burnable (

kCal

)
Duration
Code Name
Preview Audio
Choreographed By
Ace Ventura (JDK)
Performed By
JDW
Natsuko Ferguson
Background Dancers
Julia Spiesser
Marion Champmartin
JDK
Kendall Glover
Background Dancers
Jasiah Lewis
Sarah Capitule
[Source]
"Mickey" by Toni Basil (covered by The Just Dance Kids in Just Dance Kids and by Gorie with Jasmine and Joann in Just Dance Wii) is featured on Just Dance Kids and Just Dance Wii.
Appearance of the Dancers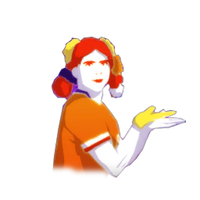 The dancer is a woman with orange hair in pigtails. She wears yellow and blue bows, an orange cheerleader shirt with the letters "JD" on them, an orange cheerleader skirt, orange knee high socks, and orange sneakers. She is is predominantly wearing orange
The main dancer is a girl, also dressed as a cheerleader, with brown hair styled in a chignon. She wears a yellow bow, a yellow cardigan with a blue shirt, a blue and yellow skirt, white knee high socks, and white shoes.
The coach is also accompanied by two backup dancers. The one on the left is a boy wearing a blue football shirt, black pants and white shoes, and the one on the right is a girl wearing the same things as the main dancer but with yellow ribbons in her hair, which is styled in two buns.
Background
Just Dance Wii
The background is a field on a beach with umbrellas, palm trees, a large rainbow, and backup dancers identical to the main dancer.
Just Dance Kids
The routine takes place in a baseball court with pink tribunes around it.
Gold Moves
Just Dance Wii
The Just Dance Wii version has 4 Gold Moves:
Gold Moves 1 and 2: Raise your right arm.
Gold Move 3: Put both your hands up.
Gold Move 4: Put your arms while lifting up your right leg.
Just Dance Kids
The Just Dance Kids routine has one Gold Move:
Gold Move: Put your arms up in a cross. (Similar to Fame.)
Trivia
The coaches in both games resembles Toni Basil in the music video, especially the cheerleader outfit and the cheerleaders in the background.

The Just Dance Wii coach also resembles Gorie in its version's music video.

Mickey is the shortest song in Just Dance Wii (2:48) and the only song under three minutes in the game.

The score tracking in the Just Dance Wii version seems to have the same point values as many other songs, even though this is shorter than three minutes.

If Just Dance Wii is played on a hacked/translated Wii, only Gorie will be credited and the title will be misspelled as Micky.
On the Just Dance Wii cover, the coach's eyebrows are extremely visible. This is the first time this has happened in the entire Just Dance series.
The coach resembles P3 from This Is How We Do.

Coincidentally, both routines have cheerleaders dancing.
Gallery
Videos
Official Music Video
Gameplays
References
Ad blocker interference detected!
Wikia is a free-to-use site that makes money from advertising. We have a modified experience for viewers using ad blockers

Wikia is not accessible if you've made further modifications. Remove the custom ad blocker rule(s) and the page will load as expected.