"ミッキーマウス・マーチ (ファミリー・パラパラ・ヴァージョン) (Mickey Mouse March (Family Flipbook Version))" by キューティー★マミー (Cutie★Mommy) is featured on Just Dance Wii 2.
Appearance of the Dancer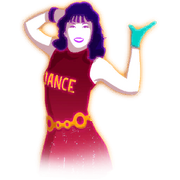 The dancer is a female teenager with wavy black hair. She wears a cranberry-colored tank top that says "DANCE", a gold but unique belt, a shiny pink skirt, and a pair of pink high-heels.
Background
The background looks like a checkered wall, and a platform the dancer stands on that moves. She could be on an amusement park ride, or on the back of a car.
Gold Moves
There are 5 Gold Moves in the routine:
Gold Moves 1, 3 and 4: Point with both hands to the left while they are in the air.
Gold Move 2: Raise your right hand with your left hand touching your head.
Gold Move 5: Put your hands together. This is the final move of the routine.
Trivia
The skirt that the dancer is wearing looks very similar to P2's dress from Mambo No. 5 (A Little Bit Of Monika).
The dancer's skirt shines less in the menu square.
On hacked/translated versions of the game, "Family Flipbook Version" is mistranslated as "Eurobeat" and "Cutie★Mommy" is incorrectly mistranslated as "Cutie★Mummy".
Before the first Gold Move appears when the dancer waves her hands in the air the third time she waves her hands it gives you points a bit late.
There is an image of the routine that contains a few beta elements; the dancer is wearing an orange glove on her left hand, the dancer has an orange outline, and the dancer's shoes are violet. Also, the HUD shown in the image is using the same HUD from Just Dance 3 (as the HUD is in English instead of Japanese).

The glove element also happened with Pump It, and the orange outline element can still be seen in the song bubble.
Gallery
Videos
References