Remove the bandaids!

This article contains images or videos with watermarks. If possible, please replace them with non-watermarked media.
"Only Girl (In the World)" by Rihanna is featured on Just Dance 3 Target Edition (NTSC exclusive), Just Dance 3 for the Xbox 360 (PAL exclusive), Just Dance: Greatest Hits/Best Of, and Just Dance Wii 2.
Appearance of the Dancer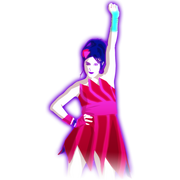 The dancer is a woman with blueish purple hair with a red flower bow in it. She has a red dress that resembles leaves. There is a pink band wrapped around her stomach. She is wearing purple high heels. She resembles Jungle Drum, and C2 of Teenage Dream.
Background
The background resembles a maroon-ish concert stage with stage lights on the floor that flash to the beat. The coach's reflection appears on the wall separated into small circles.
Gold Moves
There are 4 Gold Moves in this routine:
Gold Moves 1 and 3: Punch your right arm in the air.
Gold Moves 2 and 4: Done in a similar fashion to Gold Moves 1 and 3, but in a rapid succession.
Only Girl (In The World) appears in the following Mashups:
Only Girl (In The World) appears in Puppet/Party Master Modes. Here are the captions attributed to the dance moves:
Dreaming Girl
Feel Good
Glam Swing
Groovy Punches
Groovy Jerk
Hands Up
Sensual Whip
So Strange
Stay Away
Strong Girl
Tempo Tap
Walking Wave
Wonder Wave
Trivia
The dancer closely resembles the dancer of Jungle Drum, which was a beta routine for Just Dance 3.
This song is on the Target edition of Just Dance 3 in the NTSC region for all consoles, and the Xbox 360 version in the PAL region.
The bridge was removed from the audio in-game to save time.
This is the first (and currently only) originally brand exclusive track from the main series to also appear in the Japanese series.
This is Rihanna's third song in the series, after S.O.S. and Pon de Replay.
In the square, a part of the lyrics can be seen in the left bottom corner. This, however, cannot actually be seen in the song selection menu on Just Dance 3, Just Dance: Greatest Hits/Best Of, or Just Dance Wii 2, as the square is cropped into a bubble in-game.
In the remake, the coach appears and fades away with a spotted effect that uses a new sound effect.
"I wanna make you beg for it" is misinterpreted as "I wanna make your bed for you".
One of the pictograms is reversed.
Gallery
Game Files
Screenshots
Others
Videos
Official Music Video
Gameplays
Extractions
References

This section is a stub. You can help by adding to it.