"Primadonna" by Marina and the Diamonds is featured on Just Dance 4 as a DLC, Just Dance Now, and Just Dance Unlimited.
Appearance of the Dancer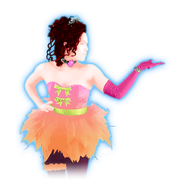 The coach is shown to be a princess figure. She is wearing an orange short princess dress with vulturous orange ruffles. Her hair is put up in high hair and curls with a tiara. The coach also wears a necklace with a pink gemstone, two light green ribbons, dark purple tights, a garter, and red mid-high heels. Her glow is blue and her glove is hot pink.
Background
The routine takes place in front of a giant purple chandelier, which sways and glistens during the routine. In the second part of the verses, it disappears and when the dancer points to the sides, a series of lavish luxuries, such as a present, a ring and perfume, appear.
Gold Moves
There are 3 Gold Moves in this routine:
Gold Moves 1 and 2: Put your hands in the air in a noble way.
Gold Move 3: Right after the coach runs close to the end, points your hands to the sides and lean forward.
Trivia
This is the second song by Marina and the Diamonds in the series, after Oh No!.
Along with Baby Girl and Die Young, this song is one of the final DLCs to be released for Just Dance 4.

Also, along with the same two songs, this song was accidentally released early for a brief amount of time on the PlayStation Network during late-March 2012 for Just Dance 4.

This is the only April DLC for Just Dance 4 that hasn't been recycled.
In the Just Dance Unlimited and Just Dance Now menus, the song's title is shown as PrimaDonna instead of Primadonna.
On Just Dance Unlimited, there was a glitch with this song; after playing the song, the avatar wouldn't get unlocked. This was later fixed.

This also occurred to Miss Understood's avatar on Just Dance Unlimited, as the avatar did not get unlocked after playing the song either.

On camera consoles, both times it is performed, the first Gold Move as described by the pictogram is counted as a regular move; the move done afterwards (described with a normal pictogram) is counted as the Gold Move instead.
Some of Primadonna's pictograms have a very small grey pixel on one of their arms.
Gallery
Videos
Official Music Video
Gameplays
References
Ad blocker interference detected!
Wikia is a free-to-use site that makes money from advertising. We have a modified experience for viewers using ad blockers

Wikia is not accessible if you've made further modifications. Remove the custom ad blocker rule(s) and the page will load as expected.