Ride On Time
Game(s)
Just Dance Wii 2
Artist
MAX
From the
Year
1998
Released Date(s)
Difficulty
2 (Medium)
Effort
2 (Average)
No. of Gold Moves
4
No. of Shake Moves
Dancer Gender(s)

♀

Mashup
Alternate Routines
Dance Mode
Solo
Pictogram Color
Blue
Glove Color
Yellow
Lyrics Color
Pink
Pictogram Count
114
Code Name
Choreographed By
Performed By
Shirley Henault
[Source]
(ライドオンタイム)"Ride On Time" by MAX is featured on Just Dance Wii 2.
Appearance of the Dancer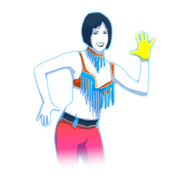 The dancer is a woman with short blue hair. She wears a pink-and-blue chain necklace, a blue-and-orange bra, a black belt, pink-and-peach pants, and a pair of black shoes.
Background
The background looks like a painting. There is a pool and a resort behind the dancer, and lots of flowers on the side.
Gold Moves
There are 4 Gold Moves in this routine:
Gold Move 1: Spin around and brush your right hand through your hair.
Gold Moves 2 and 3: Move your right hand in a counter-clockwise direction.
Gold Move 4: Slowly bring both hands up.
Trivia
The dancer's glove is used as a paintbrush.
The dance used in the game is the original choreography and the dancer's outfit slightly resembles the one in the music video (except for the color and the fringes).
The last line in the lyrics fades off before getting colored, just like in Brand New Start.
Gallery
Videos
Ad blocker interference detected!
Wikia is a free-to-use site that makes money from advertising. We have a modified experience for viewers using ad blockers

Wikia is not accessible if you've made further modifications. Remove the custom ad blocker rule(s) and the page will load as expected.