Rockafeller Skank
Game(s)
Just Dance 2
Artist
Fatboy Slim
From the
Year
1998
Released Date(s)
Difficulty
3 (Hard)
Effort
3 (Exhausting)
No. of Gold Moves
1
No. of Shake Moves
Dancer Gender(s)

♂

Mashup
Alternate Routines
Dance Mode
Solo
Pictogram Color
Deep Purple
Glove Color
Dark Pink
Lyrics Color
Pictogram Count
52
Code Name
Choreographed By
TBA
Performed By
Jérémy Paquet
[Source]
"Rockafeller Skank" by Fatboy Slim is featured on Just Dance 2.
Appearance of the Dancer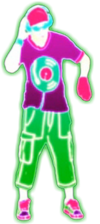 The dancer is a man. He is wearing a hot pink baseball cap, blue headphones and blue sunglasses. He is also wearing a purple shirt with a CD on it, green cargo pants, and pink and blue sneakers. His outfit cycles through random colors throughout the routine.
Background
The background has studio-like sound mixers and blue lights.
Remake
In the remake, the lights are slightly more luminous.
Gold Move
There is only 1 Gold Move in the routine:
Only Gold Move: Circle your right arm up in the air four times.
Rockafeller Skank appears in following Mashups:
Trivia
This is the second song by Fatboy Slim song in the series, after Jin Go Lo Ba (Remix); it is followed by Sympathy For The Devil (Remix) and Body Movin (Remix).

However, this is the only Fatboy Slim song that is not a remix.

The only lyrics are "Right about now, the funk soul brother check it out now, the funk soul brother", and "right about now, 'bout now", etc.
There is a screenshot that shows 3 beta elements; The lights in the background were brighter and there is a beta pictogram. The dancer is also in a slightly different pose.
This is one of the eight songs that appears twice or more in a row in a mashup - Kids in America in Rock Lobster, The Power in (I've Had) The Time Of My Life, Beat Match Until I'm Blue in Oops!...I Did It Again, Dagomba and Crying Blood in Pump It, Rasputin in Tribal Dance, and this one in Jamaican Dance.
The short version starts in the middle of the song, rather than at the start.
The coach wears the same trousers as Move Your Feet.
During the middle part, the beat triangle slows dramatically and even stops beating for a few seconds. This is the only song in the series to do this.
Gallery
Videos
References
Ad blocker interference detected!
Wikia is a free-to-use site that makes money from advertising. We have a modified experience for viewers using ad blockers

Wikia is not accessible if you've made further modifications. Remove the custom ad blocker rule(s) and the page will load as expected.