"賛成カワイイ! (Sansei Kawaii!)" by SKE48 is featured on Just Dance Wii U.
Appearance of the Dancer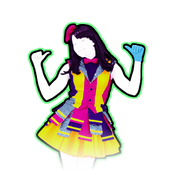 The dancer is a female teenager with long black hair. She wears a pink flower in her hair, a pink, blue and yellow multi colored dress, and yellow-and-pink boots. She has a black outline, and a lime outline going over it.
Background
The background is some multicolored diagonal stripes, many bubbles, kaleidoscopic shapes, cut oranges and more. The color of the stripes and patterns changes from yellow and orange, to orange and pink, to blue and cyan.
Gold Moves
There are 6 Gold Moves in the routine:
Gold Moves 1, 2, 3 and 6: Raise your right hand up and lift your left foot.
Gold Move 4: Make a heart with your hands.
Gold Move 5: Rest your chin above your hands and jump.
Trivia
This is the one of two songs by SKE48 in Just Dance Wii U, with the other being Kiss Datte Hidarikiki.
This song has an avatar that resembles an orange, to represent the background (similar to the jellyfish in EZ DO DANCE and the sushi in Dance de Bakōn!).
The dancer looks similar to P2 from 99 Luftballons and Starships.
The dress and the choreo are from the music video. The dress has a different color palette; however, the original version doesn't feature shades of white. Every outfit inspired from the music video are changed to not confuse it with the skin; but this time, it wouldn't happen even if they used the original palette.
The codename for the song in the files is missing the extra "I" in "Kawaii", so it is read as "SanseiKawai".
In a trailer for Just Dance Wii U, a glitch with the coach's glove can be seen where it turns magenta when it's near her chest. However, this was fixed in the game's release, as it is not present in the full game.
The pictograms have blue arrows, although the coach's glove is actually light blue.
Gallery
Videos
Official Music Video
Gameplay
References

This section is a stub. You can help by adding to it.