"Scream & Shout" by will.i.am featuring Britney Spears is featured on Just Dance 2017 and 舞力全开2017. The song can also be found in the Just Dance Unlimited files.
Appearance of the Dancer
Classic
The routine is a dance crew of two men and two women. They are surrounded by a gold outline.
P1
P1 wears a black beanie, beard, sunglasses, a black sleeveless jacket, an ochre shirt with a black bow tie and a long black vest, a bracelet on his left wrist, black ripped jeans, and a pair of black and golden oxford shoes.
P2
P2 wears a golden fedora, sunglasses, a black and golden cape (Jacket), a black crop top, black and gold leather pants with a long skirt behind, and black and gold studded lace up block-heeled boots.
P3
P3 wears a golden folded hat, circular sunglasses with yellow rims, a black leather vest (with a cape). He's also wearing golden necklaces, a charcoal-black button down shirt, a pair of shiny golden pants, and black combat boots.
P4
P4 has black hair in a long braid, a yellow crop top with black suspenders, a transparent black long sleeve shirt, black high waist shorts with golden garters connected to black knee high socks, black pantyhose, and golden and black heels.
The gold attributes of their outfits turn silver during specific parts of the song, and their gloves turn to a more saturated shade.
Extreme Version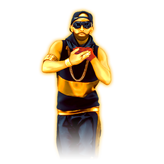 The dancer is a man with gold skin and a brown beard. He wears welder goggles, a black backwards cap, a sleeveless black hoodie with gold stripes, loose black and gold track shorts, a gold necklace, black boots with red spots, and a tall black sock on his left leg. He has a golden highlight around him.

Background
Classic Version
A blue electric circle with small yellow lights is first seen, which multiples until there are one hundred twenty-eight of them. The background zooms into one of them, revealing a dark blue, with neon blue circular lights panning sideways, having copies of itself. Each time a blue circle transitions, a gold spark flashes. The blue circle becomes a large outline for a created golden circle. This created circle splits in half, recreates itself, shorts out, and floats upward. Towards the end of the song, the background becomes pitch black while the coaches are displayed in a faded tint of purple. After that, during the last verse where each coach has solo moves, a golden circle spotlights each coach as they dance, starting with P4 and ending with P1.
Extreme Version
The background consists of many corrupted geometric shapes that roughly syncs with the dancer's moves. These shapes change color at different points of the routine. Every step the dancer takes, he leaves a golden hexagon at the area he stepped on, and will fade away after four seconds. He also sprinkles gold dust at some points. A gold pixelization is used during will.i.am's first solo verse. At his second solo verse, a copied black and gold silhouette of the dancer appears in the background.
Scream & Shout has a Mashup available on Just Dance 2017 with the theme 'American Dream'. This Mashup features coaches that wear costumes with an American theme, predominately red, white, and/or blue colors.
Dancers
Gentleman (Sweat)
Can't Take My Eyes Off You (Alternate)
Can't Take Me Eyes Off You (Alternate)
Ain't No Other Man
Fame (Remake)
Gentleman (Sweat)
Never Gonna Give You Up
Dare (Remake) [GM1]
Ain't No Other Man
Gentleman (Sweat)
Never Gonna Give You Up
What Is Love
American Girl
Can't Take My Eyes Off You (Alternate)
Ain't No Other Man
Can't Take My Eyes Off You (Alternate)
Ain't No Other Man
Fame (Remake)
Never Can Say Goodbye
Break Free
Good Girl
Dare (Remake)
Can't Take My Eyes Off You (Alternate) [GM2]
Break Free
Dare (Remake)
Fame (Remake)
American Girl
Gold Moves
Classic
There are 4 Gold Moves in this routine:
Gold Moves 1, 2, and 3:
P1: Put your right hand to your shoulder and cross your right leg in front of your left.
P2: Raise your right arm up and hold your golden fedora.
P3: Put your arms out at 90° angles with your legs spread.
P4: Raise your right arm up to raise your imaginary long ponytail up.
Gold Move 4: Slowly lower your arms. P3 does this while kneeling. This is the final move of the routine.
Extreme Version
There is 1 Gold Move in the Extreme Version:
Gold Move: Put your hands on your mouth as if you were yelling while jumping and kicking your right leg out behind you.
Mashup
There are 2 Gold Moves in the Mashup:
Gold Move 1: Put your right arm in front of your face while kneeling. (Dare)
Gold Move 2: Blow a kiss with your right hand. (Can't Take My Eyes Off You) (Alternate)
Trivia
Scream & Shout is the third song by will.i.am in the series.
Scream & Shout is the sixth song by Britney Spears in the series.
The official radio edit is used in the game, in which "s**t" (from the line "You gotta turn the s**t up") is replaced with "turn", and "b**ch" is censored.
The song was confirmed by Ubisoft during E3, but information about it was removed later.
This is one of the several multiplayer routines where the pictogram color is the same as their glove colors. This is due to the outfits' matching colors.
P1 and P2 appear in the Just Dance Unlimited icon in the main menu. The black parts of their outfits have a deep purple gradient. This is probably because of the gold parts of their outfits.
All coaches from the Classic routine appear on the Gold Edition cover of Just Dance 2017.
A Brazilian flier containing information for the World Cup was leaked and said that the song would have an alternate routine, which was later proven to be true.
The Extreme Version coach is the second dancer in the series to have golden skin, after Dark Horse (P2-C2). It is followed by the coach of the alternate version of OMG. The Extreme Version is also the only routine in Just Dance 2017 to have pictograms in Just Dance 2016 style, and the routine with the highest pictogram count in the entire series (289).
In the Mashup, DARE has new pictograms created exclusively for the Mashup.
Some of the scoring files in the Classic Version are named after Céline Baron, Julien Durand and Juliana Herrera, three of the routine's performers.

There are also four of these files inappropriately named; respectively, their names are "screamnshout_andbritneybitch", "screamnshout_wbritneybitch", screamnshout_fap and screamnshout_goatse.

There are also two pictograms with inappropriate names: "andbritneybitch_ar" (Gold Move 4) and "hellojpg_mo_ar" ("hello.jpg" is the file name of the shock meme Goatse, which is already mentioned above).

This is the longest song in Just Dance 2017, with a time of 4:17.
The Mashup for this song is the only Mashup on eighth generation platforms not to require an Internet connection.
On seventh generation consoles, when the dancers "pop out of the square", the glass effect which is used in Just Dance 2014 squares can be seen in the background square.
The Wii U version of the Mashup leads immediately to the score screen once the song is finished; on the other consoles, there is a small pause where American Girl makes her final pose before showing the score.
The Extreme Version of Scream & Shout is one of the songs selected for the digital qualifications of Just Dance 2016 and 2018 World Cup.[3][4]
According to an advertisement, Scream & Shout was going to be added in Just Dance Now as part of the New Year's Playlist.
In an interview, the official costume designer for Ubisoft Studios declared that the costumes for the Classic routine are her favorite in the game, because she loved the fact that she could only use two colors.[5]
Scream & Shout, along with its alternate, are the only Just Dance 2017 routines not to be in the Just Dance Now database.[6]

A similar case also happened to Same Old Love, where it was in the database, but was later deleted in the October 2015 update for reasons unknown.
Gallery
Game Files
Game Elements
Codes
Others
Videos
Official Music Video
Gameplays
Other
References
v - e - d

Puppet/Party Master Modes