"Shape of You" by Ed Sheeran is featured in Just Dance 2018.[1]
Appearance of Dancer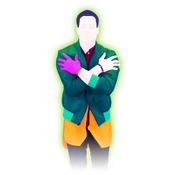 The dancer is a man with short black hair. He is wearing a button down shirt which is burgundy in the upper half and yellow in the bottom half, a dark green jacket, black pants, turquoise socks, and purple shoes with white soles. His outfit resembles Can't Feel My Face.
Background
The background is an arrangement of squares and small pixels. They shift and float around while giving the backdrop color a bright highlight. The color of the background slowly shift between teal, yellow, dark blue, purple with pink highlights, seafoam green, ocean blue, and rosy red. The dancer will create some pixels of his own at some points. He fades into squares at the end of the song.
Gold Moves
There are 3 Gold Moves in this routine:
Gold Moves 1 and 3: Lean to the left and nod your head while slowly throwing your arms out.
Gold Move 2: Point to the screen with both hands, with your left arm close to your chest.
Trivia
Shape of You was leaked on the Just Dance Brasil website.[2] As of September 15, 2017, the song has been removed from the site.
Shape of You was confirmed to be in the game when a popular Brazilian store released the game cover for Just Dance 2018 with Shape of You listed on it.[3]

Further evidence that the song was to be in the game can be found in the Just Dance 2018 game page on Xbox website and in the opening for the game demo.[4]
Gallery
Game Files
In-Game Screenshots
Behind the Scenes
For the complete Behind the Scenes video, see File:Shape of You - Behind the Scenes (US).
Others
Videos
Official Music Video
Gameplays
Behind the Scenes
References
Ad blocker interference detected!
Wikia is a free-to-use site that makes money from advertising. We have a modified experience for viewers using ad blockers

Wikia is not accessible if you've made further modifications. Remove the custom ad blocker rule(s) and the page will load as expected.