She Wolf (Falling to Pieces)
Game(s)
Just Dance 2014
Artist
David Guetta ft. Sia
From the
Year
2012
Released Date(s)
Difficulty
Medium
Effort
No. of Gold Moves
3
No. of Shake Moves
Dancer Gender(s)

♀

Mashup
Alternate Routines
Dance Mode
Solo
Pictogram Color
Ocean Blue
Glove Color
Yellow
Lyrics Color
Yellow (Classic)
Pink (Mashup)
Pictogram Count
131 (Classic)
113 (Mashup)
Code Name
SheWolf
Choreographed By
Performed By
Juliana Herrera
[Source]
"She Wolf (Falling to Pieces)" by David Guetta ft. Sia is featured on Just Dance 2014.
Appearance of the Dancer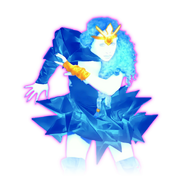 The coach wears a ocean blue dress that seems to be made of ice. The left sleeve of the dress is cut out, and jagged ice edges extrude from sides of the dress as well. She has long semi-puffed blue hair that is chalk white, to give it an icy feeling. She also wears long white boots with straps and a golden crown which wraps around her forehead. At specific times of the song her skin turns pitch black and her dress and/or hair become a darker shade of blue.
Background
The background begins with an orange spirit-like material, possibly a meteor of some sort, flying into a mountain. The material hits an icicle the dancer froze herself in, the icicle disappears (except for the dancer herself) and the dancer begins dancing. The verses of the song take place in an icicle-filled mountain. When the pre-chorus begins, the back of the mountain breaks away and the moon is visible. During the chorus, the mountain breaks/explodes away (falls to pieces) and the dancer is riding an icicle through a series of mountains. At the end the dancer gets frozen in the icicle she started in.
Gold Moves
There are 3 Gold Moves in this routine:
Gold Moves 1 and 2: Bend over and put both your hands behind you while semi-crouching.
Gold Move 3: Bend over and spin your head.
She Wolf (Falling To Pieces) has a Monthly Mashup which can only be unlocked in October.
Dancers
She Wolf (Falling to Pieces)
On The Floor
Moves Like Jagger
On The Floor
D.A.N.C.E.
Moves Like Jagger
Fame
On The Floor
Rasputin
Firework
Hey Boy Hey Girl
Moves Like Jagger
Hey Boy Hey Girl
Can't Take My Eyes Off You (Alternate)
She Wolf (Falling to Pieces)
Party Master Mode
She Wolf (Falling to Pieces) has a Party Master Mode on Just Dance 2014. Here are the captions listed in order of appearance.
(Captions in bold indicate a Song Switch.)
She Wolf (Falling to Pieces)
She Wolf (Falling to Pieces)
Battle
She Wolf (Falling to Pieces) has a battle against Where Have You Been. The battle can be found here.
She Wolf (Falling to Pieces) appears in the following Mashups:
She Wolf (Falling to Pieces)
Dark Horse (Mystic Princesses)
She Wolf (Falling to Pieces) appears in Party Master Modes. Here are the captions attributed to her dance moves:
Drama Queen
Earthquake
Frozen Balance
Frozen Walk
Ice Punch
Ice Quake
Icy Shards
Trivia
This was the first song to be announced, seen in the trailer and revealed on the Soundless Quiz.
The song's menu icon shows the dancer in her frozen pose without the icicle.
This is the first song by David Guetta in the main series; it is followed by Hey Mama, and Titanium, as well as the first Sia song in the main series; it is followed by Cheap Thrills, Titanium and The Greatest.
The coach was used as a silhouette on Facebook to tease Just Dance 2014.
In the video below of Party Master Mode, it shows Beauty And A Beat and used Gold Move 4 from Just Dance 4, which was taken off in Just Dance 2014, but used in the Party Master Mode.
Gallery
Videos
References
This section is a stub. You can help by adding to it.

v - e - d

Puppet/Party Master Modes
Ad blocker interference detected!
Wikia is a free-to-use site that makes money from advertising. We have a modified experience for viewers using ad blockers

Wikia is not accessible if you've made further modifications. Remove the custom ad blocker rule(s) and the page will load as expected.