"Smile" or "Улыбайся" by IOWA is featured on Just Dance Unlimited as an exclusive track. It was available on the main tracklist in Russian copies of Just Dance 2016 for all consoles. It is also featured on Just Dance Now.
Appearance of the Dancer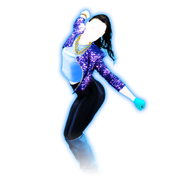 The dancer is a woman wearing a glittery purple jacket over a cobalt blue tank top, a pair of black leggings, a grey-blue bandanna around her neck, a pair of dark blue boots, and has black hair tied into a ponytail.
Background
A disco balled-based wall with a rounded pixelated turning digital panel that constantly switch colors. The squares may also twist around.
Gold Moves
There are 5 Gold Moves in this routine:
Gold Moves 1 and 2: Move your arms downwards vigorously and kick with your left leg.
Gold Moves 3 and 5: Punch the air with both hands. Gold Move 5 is the final move of the routine.
Gold Move 4: Swing your right arm and bring it down diagonally in a strike.
Trivia
Smile (Улыбайся) is the first Russian-language song in the entire series.

The translated lyrics can be found here.
The lyrics are written in the Cyrillic alphabet instead of the Latin alphabet, and they appear in a different font than usual. Smile (Улыбайся) is the first song in the main series to have this.

Smile (Улыбайся) was the first Just Dance Unlimited exclusive track to be added to Just Dance Now.
In the routine, the dancer's outline fades out near the end of her boots which causes parts of her boots to blend with the black background. This is not the case in the square.
The placement of the song in the menu varies depending on the game:

On Just Dance 2016 and Just Dance 2017, it is at the very beginning of the Just Dance Now A-E section (before #thatPOWER).
On Just Dance 2018, the song was not listed in the Just Dance Unlimited menu at the game's launch and could only be found through the search feature. In November 2017, it was added to the end of the A-E section (after Eye of the Tiger).
On Just Dance Now, the song was placed in the Songs S-Z section for a period of time in accordance with its English title (after She's Got Me Dancing). In June 2016, the song was moved to the end of the S-Z section.

On Just Dance Now, the end of the routine freezes.
Gallery
Game Files
In-Game Screenshots
Behind the Scenes
Others
Videos
Official Music Video
Gameplays
Behind-the-Scenes
Extraction
References