Sugar Dance
Game(s)
Just Dance 2018 (

Code

)
Artist
The Just Dance Band
From the
Year
2017
Release Date(s)
Difficulty
Effort
No. of Gold Moves
3
No. of Shake Moves
Dancer Gender(s)

♂

Mashup
Alternate Routines
Dance Mode
Solo

Menu Color(s)

Pictogram Color
Red
Glove Color
Cyan
Lyrics Color
Crimson Red
Pictogram Count
Total Calories
Burnable (

kCal

)
Duration
Code Name
SugarDance
Preview Audio
Choreographed By
Performed By
Alexinho Mougeolle[citation needed]
[Source]
"Sugar Dance" by The Just Dance Band is featured on Just Dance 2018. The track must be redeemed using the Code feature in the options with the code "dance", wherein capitalization or lack thereof is irrelevant, as long as the user spells out "dance" correctly. It only works on 8th Gen and Nintendo Switch.
Appearance of the Dancer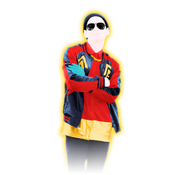 The dancer is a man. He has black sunglasses and hair, and is wearing a gray colored beanie. He has a black and red jacket with yellow symbols on it, and a gold color at the bottom of the jacket. The dancer also wears a gold chained necklace along with it. He is also wearing black pants with red shoes.
Background
The background is black background with blue orbs floating around and several animations related to the coach's movements, such as pink or blue fiery trails forming a circle. In the verses, there is a circular, multi-colored volume spectrum that surrounds the dancer and follows him. Some of the lyrics appear in the background in different neon fonts. In the bridge, the blue orbs are replaced by purple zooming lines, along with two blue holograms of the coach on his sides and purple intersecting circles that, like the volume spectrum, follow the dancer.
Gold Moves
There are 3 Gold Moves in this routine.
Gold Move 1: Hold your arms out and point upward.
Gold Move 2: Raise your arms and then bring them down, with your left leg behind your right.
Gold Move 3: Lift your right arm and drop your left arm, both at a right angle.
Unlocking Instructions
To unlock Sugar Dance, go to the "Redeem Code" section in the Extras/Options Menu and type in "dance", with or without any capital letters. This only works on 8th-Generation consoles (Wii U, PlayStation 4, and Xbox One) and the Nintendo Switch.
Trivia
Gallery
Game Files
In-Game Screenshots
Videos
References
Ad blocker interference detected!
Wikia is a free-to-use site that makes money from advertising. We have a modified experience for viewers using ad blockers

Wikia is not accessible if you've made further modifications. Remove the custom ad blocker rule(s) and the page will load as expected.