睡蓮花 (Suirenka)
Game(s)
Just Dance Wii 2
Artist
Shōnan no Kaze (湘南乃風)
From the
Year
2007
Release Date(s)
Difficulty

1

Effort

3+

No. of Gold Moves
3
No. of Shake Moves
Dancer Gender(s)

♂

Mashup
Alternate Routines
Dance Mode
Solo

Menu Color(s)

Pictogram Color
Dark Purple
Glove Color
Light Blue
Lyrics Color
Pictogram Count
98
Total Calories
Burnable (

kCal

)
Duration
4:05
Code Name
Preview Audio
Choreographed By
Performed By
[Source]
"睡蓮花 (Suirenka)"by Shōnan no Kaze (湘南乃風) is featured on Just Dance Wii 2.
Appearance of the Dancer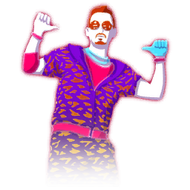 The dancer is a young man that has short red hair and an orange beard. He wears a pair of red sunglasses, a purple and orange jacket over a magenta shirt, a light blue necklace, a light blue glove, a pair of cheetah spotted pants, and a pair of orange shoes.

Background
It looks like a disco with a Japanese shining sign and a DJ. Sometimes three men that look similar to the dancer appear behind him while waving handkerchiefs. The far back of the background also features a red fabric display with "wind" written in Traditional Chinese.
Gold Moves
There are 3 Gold Moves in this routine.
Gold Moves 1 and 3: Move your right hand on your face from the left to the right.
Gold Move 2: Open your right hand as if you're holding a mobile phone.
Trivia
The name of the song translates to Nymphaeaceae (the scientific term for water lilies).
The dancer looks wider in the gameplay than in the menu.
The lyric "BOO" has two downwards arrows instead of the exclamation marks, indicating that you have to point your thumbs down.
This is one of the most exhausting routines ever made, with an effort of 3+. Body & Soul and We Can Fly have an effort of 3+ as well.
This song was shortened for the game. The original length is about 6 minutes and 50 seconds.
During Gold Move 3, the Wii Remote will play a ringtone sound effect as if the remote was the phone used.
Gallery
Videos
References
Ad blocker interference detected!
Wikia is a free-to-use site that makes money from advertising. We have a modified experience for viewers using ad blockers

Wikia is not accessible if you've made further modifications. Remove the custom ad blocker rule(s) and the page will load as expected.