"The Lion Sleeps Tonight (Wimoweh)" by The Tokens (covered by The Just Dance Kids in-game) is featured on Just Dance Kids 2, Just Dance Unlimited, Just Dance Now and Just Dance 2018 (in Kids Mode).
Appearance of the Dancer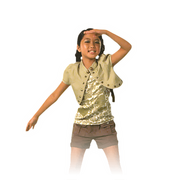 The dancer is a girl wearing a camouflage shirt with dark grey shorts. She is also wearing a beige vest and boots.
Background
The background appears to be in a cartoony jungle setting below a blue sky with clouds and a sun with a roaring lion which rises up in the beginning of the routine. Halfway through the routine, the sun sets turning to nighttime and a moon with the same roaring lion appears.
The coach is accompanied by two backup dancers. The backup on her left is wearing a shirt with a V neck ruffled collar and a beige skirt. She also has black leggings boots. The backup on the right is wearing a camouflage tank top with light olive green shorts and boots similar to the main dancer.
Gold Moves
There are 6 Gold Moves in both original and the remake, all of which are the same.
All Gold Moves: Bring your arms up and claw with your hands, all while bending down.
Trivia
An updated cover of the song is used in the remake. Additionally, the "shhhh" sound effect at the end is removed.
This is the Just Dance Kids song with the shortest amount of pictograms in the main series so far (only 16 pictograms).
In the main series, the line The quiet jungle is erroneously written as The mighty jungle.
In Just Dance Unlimited, the song is now titled "The Lion Sleeps Tonight (Wimoweh)" as of an unknown date.
Gallery
Videos
Official Audio
Gameplays
References
Ad blocker interference detected!
Wikia is a free-to-use site that makes money from advertising. We have a modified experience for viewers using ad blockers

Wikia is not accessible if you've made further modifications. Remove the custom ad blocker rule(s) and the page will load as expected.