Troublemaker
Game(s)
Just Dance 2014
Artist
Olly Murs ft. Flo Rida
From the
Year
2012
Release Date(s)
Difficulty
Easy (All Modes)
Effort
No. of Gold Moves
3 (Classic/Sweat)
1 (Mashup)
No. of Shake Moves
Dancer Gender(s)

♂

(Classic}


♂

{Sweat)
Mashup
Unlockable in May
Alternate Routines
Sweat Mode
Dance Mode
Solo (All Modes)
Menu Color
Pictogram Color
Red (Classic)
Orange (Sweat)
Glove Color
Orange (Classic)
Yellow (Sweat)
Lyrics Color
Dark Blue (Classic)
Orange (Sweat)
Pictogram Count
93 (Classic)
67 (Sweat)
80 (Mashup)
Total Calories
Burnable (

kCal

)
Duration
Code Name
Troublemaker
TroublemakerSWT (Sweat)
Preview Audio
Choreographed By
Performed By
Nick Mukoko (Classic)
Salvatore (Sweat)
[Source]
"Troublemaker" by Olly Murs ft. Flo Rida is featured on Just Dance 2014.
Appearance of the Dancer
Both routines are performed by a solo man.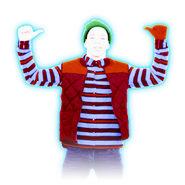 Classic
The Classic dancer is a teenage boy. He wears a green beanie, a red, orange, and white striped long sleeve, a red and orange vest, blue skinny jeans, and red and orange sneakers. He has a blue outline.
Sweat
The Sweat dancer is a man. He wears a purple and orange tank top, teal wrist warmers, black and blue pants, blue sneakers. Also he has neatly-combed black hair and a black beard.
Background
Classic
The background has circles and buildings that move around and a diner that says Olly's Diner. At some points of the routine, the background turns black with a spray painting of "Troublemaker" and the routine involves female silhouettes dancing with the dancer.
Sweat
The background used for all the other sweat versions. It flashes orange and purple and has yellow lights running.
Gold Moves
Classic
There are 3 Gold Moves in the Classic routine:
Gold Moves 1 and 2: Rub your chest.
Gold Move 3: Put your arms out. This is the final move for the routine.
Sweat
There are 3 Gold Moves in the Sweat routine:
All Gold Moves: Run to the right, hop, and raise your arms. All of these are done during the chorus and are the same.
Mashup
There is one Gold Move in the Mashup:
Gold Move: Put your arms out. This is the final move for the Mashup. (Troublemaker)
Troublemaker has a Mashup that can only be unlocked in May.
Dancers
Troublemaker
The Power
Moves Like Jagger
She's Got Me Dancing
Superstition
D.A.N.C.E.
Superstition
D.A.N.C.E.
Wild Wild West (Extreme)
Troublemaker [GM]
Party Master Mode
Troublemaker has a Party Master Mode. Here are the captions in order of appearance:
(Captions in bold indicate a Song Switch.)
Troublemaker appears in the following Mashups:
Classic
Sweat
Troublemaker appears in Party Master Modes. Here are the captions attributed to his dance moves:
Classic 
All For Me
Charleston
Crab Dance
Me Me Me
Selfish
Slider
Sweat 
Clap Happy
Hipster Gym
Wide Lunges
Trivia
On some advertisements and on the beta version of the Just Dance 2014 NTSC cover, the coach appears with a slightly different color scheme.
The words "damn" and "hell" are censored.
This is Flo Rida's second appearance in the series, after Good Feeling.
The diner with the sign "Olly's Diner" is a reference to the artist of the song, Olly Murs.
The Mashup has a glitch: sometimes, the dancers do not appear and there is just the Classic coach's outline instead of them. However, there are still pictograms and you can still get points.

The Party Master Mode has a glitch too: whenever the caption Rolling Hands is selected, the preview of the dance move freezes.

At Flo Rida's part, the background looks very similar to the one from the Just Dance 2014 version of We Can't Stop.
D.A.N.C.E.'s Gold Move is not counted as a Gold Move in the Mashup or in the Party Master Mode for this song.
The Sweat coach has a glitch: when he moves his hands near his armpits, they become a bit black; this mask glitch happened before in We R Who We R.
The Classic coach makes a cameo appearance in the background of Uptown Funk.
A Beta color scheme for the Classic coach can be seen on the marketplace.xbox.com website: his hat is brown instead of green, his jacket, his glove and his shoes are more purple, his jumper has purple stripes instead of red and orange ones, along with a green spot, and his jeans are more greenish.
In the Party Master Mode, a pictogram from I Will Survive is missing.
Gallery
Videos
References
v - e - d

Puppet/Party Master Modes
Ad blocker interference detected!
Wikia is a free-to-use site that makes money from advertising. We have a modified experience for viewers using ad blockers

Wikia is not accessible if you've made further modifications. Remove the custom ad blocker rule(s) and the page will load as expected.